LA Residents Are You Looking For A Cheap Composter? How About Only $20?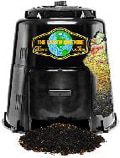 This Friday (tomorrow) October 12th in Griffith Park, the Compost Education Facility will be selling 3 different compost units to Los Angeles residents for as low as $20.
Where: 5400 Griffith Park Drive, Los Angeles, Ca 90027, as well as special events and workshops around the city (bring a driver's license or DWP bill to verify residency).
Thanks to StylishGuide for pointing this out!