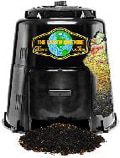 This Friday (tomorrow) October 12th in Griffith Park, the Compost Education Facility will be selling 3 different compost units to Los Angeles residents for as low as $20.
Where: 5400 Griffith Park Drive, Los Angeles, Ca 90027, as well as special events and workshops around the city (bring a driver's license or DWP bill to verify residency).
Thanks to StylishGuide for pointing this out!
David is the publisher and editor of The Good Human. He has been writing online about environmental issues since 2006. You can follow him on Twitter at
@thegoodhuman
.
Like this post? If so, please consider subscribing to my full feed RSS. Or, if you would prefer, you can subscribe by Email: