April 07th, 2008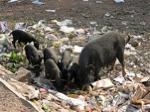 Modern society comes with a lot of "I need it's", doesn't it? Everywhere you look, television, billboards, magazines, newspapers and radios try to tell us what we need to buy and consume in order to be happy. The marketers are very good at their jobs, and every single one of us falls for it at some point or another no matter how hard we try to avoid it. The gross over-consumption throughout the world is filling our landfills and recycling bins with unnecessary waste. So what is one thing that we, as average people here on the planet, do to help each other avoid the endless stream of goods that we are being sold?
Start sharing.
While we cannot share a roll of paper towels, a television or our couches, there are some major purchases that can be shared amongst neighborhood friends or family members. When I was growing up, two of my neighbors shared a snowblower each winter. One of them kept it at their house, but each time there was a snow storm they each got their chance to use it. Snowblowers were very expensive back then (they aren't that cheap now, either) and were not used all that often – so it was the perfect "sharing" appliance. By sharing they also kept one more snowblower from being made, bought, and maintained – imagine if families in every neighborhood could share major purchases like that? Remembering this from when I was kid got me wondering about what other products could be a shared financial burden between families while also effectively reducing our consumption, waste, and raw materials cost…and this is what I came up with:
Snowblowers, of course. These could be shared by several different families, not just two.
Lawnmowers
Garden tools like shovels, hoes, rakes
Tree trimmers
Chainsaws, weed eaters
A Pool
Sports equipment
Camping equipment
Magazine subscriptions
Books
These are just a few of the things off the top of my head that could be comfortably shared between friends and/or neighbors to both save money for people and reduce consumption and waste throughout so many levels of society. What do you think…could you share some of these things with your neighbor to save some cash and reduce your trash? If I had neighbors I liked or even talked to here where we live, I would certainly consider it…maybe someday when I have neighbors I speak with, I can convince them that sharing a lawnmower can do a world of good!
Image by Laertes
Like this post? If so, please consider subscribing to my full feed RSS. Or, if you would prefer, you can subscribe by Email: