If I were ever to go back to working for a corporation again, benefits that include rewards for going green is the type of thing I would be looking for in a salary package. While rewards for going green or reducing one's carbon footprint used to only be for fringe "eco" companies, more and more mainstream companies are adopting these kind of rewards for their employees. Benefits like health insurance, retirement plans, flextime, telecommuting, and bonus vacation time are always welcome, but wouldn't it be cool to see some payback on your efforts to be a sustainable citizen of the world? I know we all do what we can on our own accord, but to have your company recognize your green efforts could go a long way to keeping you happy in your job. So which companies are rewarding their employees for being eco-minded? Let's take a look at some green job benefits…
Google
Besides offering their workers all the standard fare, Google also offers gourmet meals made of local, organic, sustainable ingredients, use of plug-in hybrid vehicles and bicycles, free shuttles powered by biodiesel, discounts to employees who want to go solar at home, and any employees who bike, walk, pogo-stick, unicycle, or otherwise self-power to work can earn points that translate into a donation from Google to their charity of choice.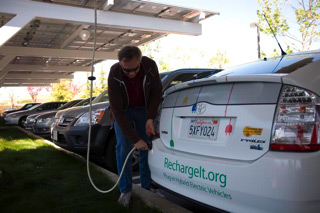 Google Plug-In Hybrids
Patagonia
Employees can leave their jobs to work for an environmental group of their choice, while continuing to get their pay and benefits while they are gone.
Clif Bar
These guys take their green rewards seriously. Employees can receive up to $1,000 annually to make eco-home improvements, $500 to apply to the purchase of a commuter bike or to make commute-related retrofits to their existing bike, and a $6,500 taxable cash incentive to use towards the purchase of biodiesel-fueled, natural gas-fueled or high mileage hybrid vehicles. Eligible vehicles include the Toyota Prius, Honda Civic Hybrid, Honda Civic GX and any biodiesel compatible vehicle that runs on B100 for at least six months of the year. In addition, employees who commute via foot, bike, or public transportation can earn $960 a year in rewards.
Green Mountain Power
Vermont's power company offers employees a $1,500 incentive for the purchase of a new car, or a $750 incentive for the purchase of a used vehicle, that is included in the EPA's Smart Way Elite category. Currently that list includes the Toyota Prius, Honda Civic Hybrid, Nissan Altima Hybrid, and Toyota Camry Hybrid.
Bank of America
Expanded its program to reimburse $3,000 to employees purchasing a new hybrid vehicle.
Does the company that you work for give out rewards/benefits for going green? If so, where do you work and what kind of stuff do they have in place? Is it worth working there for some of those benefits? Let us all know in the comments, so we know where to look for the next job that we need!
Like this post? If so, please consider subscribing to my full feed RSS. Or, if you would prefer, you can subscribe by Email: