10% Discount Code On SIMPLE Shoes For Good Human Readers
----------- Sponsored Links -----------
----------- Sponsored Links -----------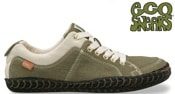 It's no secret that I am a fan of Simple Shoes. I have written about my "Toe Jam" and "Loaf" sneakers before, and I have a few more pairs as well that I have not written about. Well, it seems that Simple has taken notice and has been kind enough to provide a discount code for all the readers of The Good Human, which is good for 10% off Simple Shoes orders of $50 or more and free domestic ground shipping in the lower 48 states. So what is the discount code, you ask?
GoodSIMPLEHuman
This offer has expired, sorry!
When it is time to check out, you just have to enter that code in the "Discount Code" field at SimpleShoes.com and you will automatically get the discount and the shipping. The coupon is good until March 30th, 2008, so there is a little bit of time to take advantage of their kind offer. When I bought my shoes I looked on the internet to find a coupon code and could not find one, so hopefully this will help you out if you have been on the search for one. The shoes pictured up at the left are my new favorite ones that I will probably be buying next, and here are the specs on them:
Hemp uppers
Sidewall of the ecoS is made from a recycled bike tire
Organic cotton linings
Recycled PET (that's recycled plastic bottles) laces
PET pedbeds
Outsole used to be a car tire
100% post consumer paper pulp foot forms
So if you have been looking for a good time to pick up a pair of Simple Shoes, now might be that time!
----------- Sponsored Links -----------
----------- Sponsored Links -----------