2009 Eco-Friendly Gift Guide From The Good Human.
----------- Sponsored Links -----------
----------- Sponsored Links -----------
Looking to shop a little bit greener this holiday season? Then you came to the right place! While giving handmade gifts wrapped in recycled paper is probably always the best option, sometimes you have to buy items for people. And if you gotta buy, you should at least try to buy something either eco-friendly or that benefits the environment in some way – and that's where this gift guide comes in. I have gone back over products I have reviewed before, products I own myself, or things I wouldn't mind receiving as a gift, and assembled them here to try to help out those of you still looking for a gift for the environmentalist (or environmentalist-to-be) in your life. Take a look through these, and let me know if you have any questions on any of them – I might just have the answer!
This stainless steel water bottle from Klean Kanteen both saves you money and saves the environment from a plastic assault. The wide-mouth accommodates ice cubes and makes cleaning easy, while the sports cap and size make this bottle ideal for sports and other activities. I carry my bottle with me everywhere I go now and have not bought bottled water in years.
Got a soda-fiend in the house and tired of seeing all those soda cans and bottles in the recycling bin? Start making your own soda! The people from SodaStream sent me one of their machines to try and I absolutely love it. Using just tap water and a CO2 cartridge, I can make my own soda and seltzer water at home anytime I want – without the waste. And more good news? The soda flavors are made without HFCS and the bottles are BPA-Free!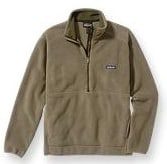 A fleece sweatshirt from Patagonia, which is one my favorite things. The fleece is called the "Synchilla Marsupial", and is 100% polyester made from 85% recycled soda bottles, unusable second quality fabrics and worn out garments – pretty cool, huh? It is incredibly soft and one would never know that it used to be a bunch of plastic…except I just told you that so now you know.
Pick up a goat or 2. You and I both know it – people in developing countries have it way worse than we do and wouldn't it feel great to know that you were helping them with a step up? Heifer International provides goats, chicks, pigs and even trees to help families around the world from your donations. A charitable gift from Heifer will provide animals and training to help families build a better future for themselves and their communities.
Made from 90% post-consumer recycled content (recycled plastic bottles & containers) and with Fair Labor/Fair Wage principles, this Recycled PET thermal lunch bag is only $9.95. Using recycled PET is smart – it cuts down on waste & minimizes damage to the environment by conserving oil, energy & non-renewable resources. In the U.S. alone over 45 billion plastic containers end up in landfills in 2006.
A laptop sleeve made from 100% recycled plastic bottles by GreenSmart. I reviewed this back in 2007 and I still use it today with my MacBook Pro. To make the size sleeve that I have, GreenSmart used 6 X 16oz plastic bottles and saved 4.335 BTU's of energy – enough to power my laptop for 51 hours. Yet another great use of plastic bottles instead of them going to the landfill!
Buy someone member a membership in a CSA – Community Supported Agriculture. Here are the basics: a farmer offers a certain number of "shares" to the public. Typically the share consists of a box of vegetables, but other farm products may be included. Interested consumers purchase a share (aka a "membership") and in return receive a box of seasonal produce each week throughout the farming season. Cool, right?
Nothing goes to waste with the Kids Konserve Waste-Free Lunch Kit – an eco-friendly lunch bag that includes everything you need to pack a safe and environmentally responsible lunch. Kit includes a recycled cotton lunch bag with a recycled aluminum nametag, cloth napkin, 16 oz. stainless steel beverage bottle, Food Kozy (made of FDA approved, non-toxic, non-leaching, recyclable polyethylene plastic) and two stainless steel food containers.
Pick up a Fair Trade Mixer Gift Basket from Fair Trade Exchange. This fair trade gift includes a variety of Equal Exchange products in a fairly traded kaisa grass basket imported by Ten Thousand Villages from Dhaka Handicrafts, a non-profit that works to improve the lives of children and rural families in Bangladesh. Includes: Organic French Roast Coffee, Hot Cocoa Mix, Chocolates, Tamari Roasted Almonds, & Roasted Salted Pecans.
Bazura Bags are handmade using colorful recycled juice containers to form cool, one-of-a-kind styles. These bags are made in the Philippines by a women's cooperative, utilizing used juice containers. These containers are purchased through a network of local school children. Indestructible and non-biodegradable by nature, foil juice packs clog landfills, fields and streets throughout the Philippines.
Buy your mom a reusable shopping bag or two. Check out Reusable Bags for a huge selection of reusable shopping and grocery bags good-looking enough to help mom (or dad) ditch the plastic and paper. What better way to spread the message of environmental sustainability than with a beautiful, eco-friendly product that they'll love using? You can check out the Envirosax bag I reviewed right here.
Pick up a pair from my absolute favorite shoe manufacturer – Simple Shoes. I myself just got the TUBA sneaker from the "Eco-Sneaks" line and I could not be happier with them. Made from organic cotton, recycled inner-tubes, recycled PET (plastic soda bottles), and recycled car tires, they are a vegan shoe that is shipped in recycled packaging printed with soy-based inks.
These solar chargers from Solio are made with high efficiency solar cells, a recyclable shell, and a high capacity lithium-ion battery, and come with all sorts of adapters that make it work with many different gadgets. While buying a gadget like this might not be seen as green in some circles and situations, if you have a real need for it I would prefer to see people buy a solar unit as a replacement rather than one that just plugs into the wall.
I hope you guys found some useful suggestions in the list. However, there is one gift you cannot buy – time. So if you can give it, offer some time to either someone in need, an animal shelter, or a few extra days visiting with family. Happy Holidays.
----------- Sponsored Links -----------
----------- Sponsored Links -----------