4. Lavender Soap

After the previous rejuvenating recipe for a morning bar of soap….this one is for the other end of the day. Lavender has wonderful relaxing properties, so this one will prepare you to relax and unwind.
Ingredients:
Goats Milk Soap Base
Lavender Oil
Organic Lavender Flowers
soap colorant (optional)
Directions:
Cut soap into cubes and place in the microwave. Melt in 30 second intervals.
Melt soap over low-medium heat.
Once soap cubes turn to liquid, add a few drops of lavender extract, colorant, and lavender. Stir well. The lavender will naturally float to the top. Give your mixture a good stir before pouring into the mold to mix up the lavender.
Pour into soap molds and allow to harden for at least one hour.
You can be creative with these recipes and try your own extracts and colourants.
5. Herbal Soap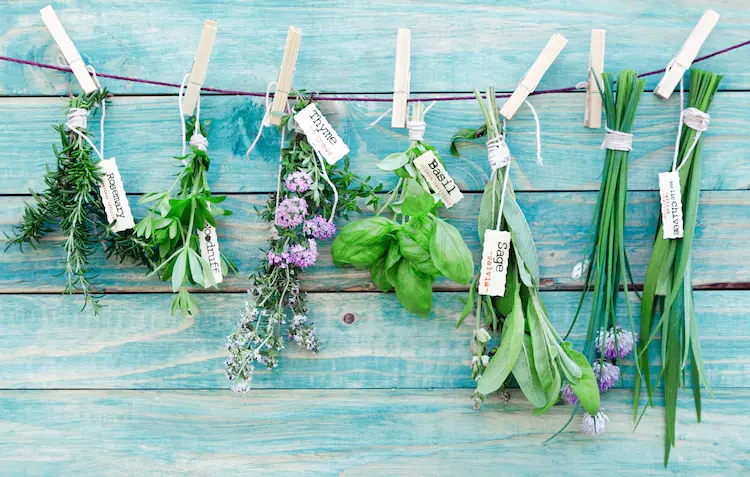 You can instantly turn any soap into something unique and herbal by dicing up some mint and adding it to the soap mixture before allowing it to cool and set. Other herbs to dice and add are rosemary, thyme or lemon and orange zest. Get creative!
Ingredients:
Glycerin soap (sold at craft stores)
Assorted herbs and citrus – basil, mint, rosemary, orange and lemon.
Materials Needed:
Food processor
Glass bowl or measure cup
Plastic spoon / spatula
Soap molds (plastic container or bread mold will work)
Cooking spray
Directions:
Put the soap blocks in glass bowl and melt in the microwave for 30 second intervals. Stir every so often to break up big chunks.
While melting, puree the herbs and squeeze out excess water in a paper towel. For citrus, zest the peel. You'll need about 1 tablespoon of additives for each cup.
Spray your molds / containers with cooking spray and wipe out excess.
Once glycerin is melted, let it stand and cool for a few minutes. Before it sets too much, add the additives. Keep stirring to ensure they don't all float to the bottom. Pour into the container.
Let the soap sit on the counter for about an hour to completely set. Then put in the freezer for another hour or so. Slice with knife into your desired shape and size.