A Beautiful Free And Green Day Trip Near Los Angeles.
----------- Sponsored Links -----------
----------- Sponsored Links -----------
If you live in the Los Angeles area and are looking for fun, outdoorsy thing to do on a weekend (that doesn't cost a penny), I suggest a very drive down the coast. Other than having to take our car there, it was a beautifully "natural" day we spent on Saturday down near Palos Verdes. We had never really spent any time down there and decided that we should check out the whale watching spot and a few other things, so we took off in the morning for the day. What a different world! First we stopped at a lookout that stared out at Santa Monica Bay and we looked back north to our house after hiking into the wildflowers a little bit (on a path, of course!):
Then we drove a little further south and stopped at the Palos Verdes Point Vicente Interpretive Center which is supposed to be a premier place to look for whales as they migrate north between December and May. We did not see any, but judging by the amount of people staking out a spot overlooking the water and Catalina Island I guess someone sees them! According to their "whale watch" board, they had seen 6 whales that day! Unfortunately they all decided to show themselves when we were not there, but we enjoyed the beautiful weather and the sunshine anyway. I guess in the "old" days there used to be a "Sea World" type place on these grounds – they had all sorts of memorabilia inside the little museum on the premises.
Just thought I would share in case any readers lived in the LA area – it's a fantastic place to check out if you have never been down there. Here is the route that we took, outlined in green: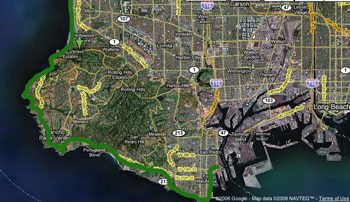 Oh, and sorry the pictures are not so great – the genius that I am I forgot our good camera and had to use my phone!
----------- Sponsored Links -----------
----------- Sponsored Links -----------