A Weekend Of Green Fairs Around Los Angeles.
----------- Sponsored Links -----------
----------- Sponsored Links -----------
This weekend we spent the majority of our time outdoors, as there were two different fairs around Los Angeles that had "green" aspects to them. Sure, the message might be lost on many of the fair-goers, but if just a few of them take the time to learn about recycling, solar panels and hybrid cars, then it is all worth the effort. First up, on Saturday we went to the L.A. County Fair:


The L.A. County Fair is not really known for being eco-friendly; from the plastic toys everyone was lugging around to the 58 tons of beef that was served, it pretty much is the antithesis of what the green movement is all about. Trash bins overflowing with paper products, giant SUV's and trucks covering every inch of the parking lots…I can't imagine a more obvious example of excess. However, within those acres and acres of carnival grounds there was one area that really stood out to me that we spent a lot of time in, seeing as how it was one of the big reasons we attended – The "EcoNow – A Planet Saving Adventure" display. Sponsored in part by Toyota, Southern California Gas Company, Mohrpower Solar and LifeSource Water Systems, it was quite an oasis from the goings-on outside. There were solar displays, hemp and organic cotton clothing for sale, talks about recycling, natural body product companies…the list goes on. It filled up a huge section inside one of the shopping malls on the property, and as long as someone found their way into the building, they could not help but see it. I talked to a representative from one company that I think will revolutionize the way of doing something that we all have done or will have to do in our lives, and I will write about it this week. And as I said, as long as a few people who wouldn't normally care about this kind of stuff came across the exhibition, it all would be worth it. I hope they continue this every year and make it an even bigger part of the fair!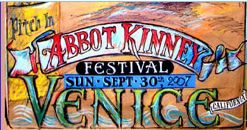 On Sunday, we got going around noon and headed over to the Abbot Kinney Festival in Venice, right down the street from us. Since we have the Big Blue Bus within walking distance of our place and it only costs $.75 to ride it, we jumped on board and got dropped off right at the beginning of the festival. Because of how Venice is set-up, you would not want to drive down there anyway. Virtually everyone rides their bikes, skateboards or roller-blades to do anything there. And seeing as how different Venice is from most other places in L.A., the crowd was quite varied – from the family down from the Valley to the tattooed hipster from down the street – everyone was getting along beautifully and enjoying the day. Tons of art for sale, hemp t-shirts, organic cotton bags and sheets, natural body products, you name it – if it was green, it was there. I sat in on a lecture by someone from Greenopia which was pretty good, and it seemed like there were "newbies" to the green movement there as well, so that's always welcome. If you don't know what Greenopia is, you need to check out their website. They offer "Green Guides" for a bunch of cities in the U.S. that provide you with lists of companies that you can use that are friendly to the environment. For instance, if you want to use a cab service that runs bio-diesel cars, you can check out that part of the guide…it's pretty cool. Here is what the festival website had to say about the day:
This year, the festival will be a green event and will highlight a Green Living Tent, featuring speakers, seminars on environmental issues and vendors that sell eco-friendly goods. As part of the festival, epOybOx (corner of Venice and Abbot Kinney Boulevards) will be hosting a Green Design Block Party. The AKDA is also requiring vendors to use corn-starch bags that are easily composted – residents can throw them directly into their green bins. "That's 10,000 fewer plastic bags in our landfills," says AKDA member Nick Karno, who expects up to 120,000 people to attend. The festival organizers will also use solar power when possible. Any other carbon emissions will be offset.

Pretty cool, no? I love these kind of events because it gets the news out there in an open, friendly way and it allows the entire community to participate. I hope more and more communities start integrating green themes into their fairs and festivals as the more people that learn about this stuff, the better off we all will be!
----------- Sponsored Links -----------
----------- Sponsored Links -----------