All The Natural Products I Use In My Bathroom.
----------- Sponsored Links -----------
----------- Sponsored Links -----------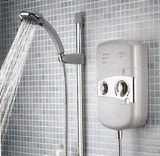 A boring title, I know…but I have gotten a few emails over the past month or so asking exactly what products I use in the bathroom for washing, shaving, etc…so I figured I would put together a list and answer everyone at the same time. Hope this helps, and if you have any questions, please feel free to ask. I do like to try out new stuff from now and then and probably have tried out what you might have a question about, so you never know.
Shampoo – I started using a Dr. Bronner's shampoo bar a while back and it works great. Granted, I don't exactly have long locks of hair, but for my head, it definitely does it's job.
Soap – I am finishing up a bar of all-natural gylcerin soap I picked up in Taos, but we have started using the liquid soap from Dr. Bronner's as well. We buy one big bottle and use it throughout the house, including in the shower. Watered down to 3 parts water 1 part soap, it's perfect.
Shaving – Using the same soap as in the shower, but not watered down. Just a little dab into my hand and it works for my entire face. Plus I get less bumps and damage from my razor now, which is fantastic.
Deodorant – I have used Tom's of Maine products for a long time now, and their new deodorant with hops works really well. Of course, it's not an anti-perspirant, but I don't sweat too much anyway.
Toothpaste – Again, Tom's of Maine. I don't use the kind that has fluoride in it though, because of all the reports coming out about how dangerous it is. The kind I use is the Natural Antiplaque plus Whitening Gel Toothpaste in peppermint. Good stuff.
Toothbrush – Both my wife and I use toothbrushes from Recycline. They are called "Preserve" and are available almost everywhere now. They are made from recycled yogurt cups and are recycled into playground sets and the like at the end of their life. The company even provides postage free labels to ship them back when you are done. Very cool.
Face Moisturizer/Aftershave – I think we have all been sold on the idea that we need a separate moisturizer and aftershave product. Well I am on to them! I now use one product for both and it's from Aubrey Organics. It's the Green Tea & Ginkgo Moisturizer with SPF 15. Feels great, non-oily, and protects me from this harsh Southern California sun.
Lip Balm – I use a natural hemp product that I bought in Santa Fe New Mexico. I got it at Santa Fe Hemp, which is a great store if you are ever there.
And that's about it! I feel good knowing that none of the products could potentially do damage to me and the fact that they do a god job keeping me clean. They do, right honey? Right?
----------- Sponsored Links -----------
----------- Sponsored Links -----------