EarthTalk: Are There Good Alternatives To Leather?
----------- Sponsored Links -----------
----------- Sponsored Links -----------
EarthTalk is a weekly installment from E/The Environmental Magazine.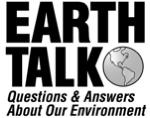 Dear EarthTalk: What are the environmental consequences of leather? Are there any good alternatives? — Brianna Jacobs, Somerville, MA
Leather is everywhere, from shoes and belts, to purses, wallets, jackets, furniture and car seats. Most probably assume that the leather that finds its way into our wardrobes and living spaces is a byproduct of the meat industry. But while cows are certainly the most popular animals to use for leather goods, in truth most of our leather is sourced from overseas, from countries like China and India, where a host of animals may be raw material for our bags and belts, including horses, deer, sheep and, in more exotic cases, alligators or snakes. All of which may make an animal-lover or vegetarian queasy.
But environmentalists have reason to forgo leather, too. Processing leather requires copious amounts of energy and a toxic stew of chemicals including formaldehyde, coal tar, and some cyanide containing finishes. The tanning process is just as pollutant-laced, and can leave chemicals in the water supply (as described in the best-selling book and popular movie, A Civil Action) and on the hands (and in the lungs) of developing world workers.
Tanneries are top polluters on the Environmental Protection Agency's (EPA) "Superfund" list, which identifies the most critical industrial sites in need of environmental cleanup. Due to their toxicity, reports organicleather.com, "many old tannery sites can't be used for agriculture, or built on, or even sold." That website is the home of Mill Valley, California, retailer Organic Leather, which offers a return to the tanning practices of old, using animals that are organically fed and humanely raised and a tanning process that uses plant tannins, vegetable tannins or smoke to cure the leather with zero toxicity in the process.
But with the wealth of fashionable faux leather alternatives, there's no need to ever wear animal skins. So-called "cruelty-free" fashions have advanced in leaps and bounds, with variations on every style of handbag, wallet, belt and boot. Online "vegan boutique"Alternative Outfitters even has a version of the ubiquitous Ugg boot made with microsuede "shearling" on the outside and synthetic wool inside, while Iowa-based Heartland Products sells western-style non-leather boots and non-leather Birkenstock sandals. Science has come up with plenty of comfortable, durable alternatives to materials made with animal products. These include vegan microfiber, which claims to match leather in strength and durability, and Pleather, Durabuck and NuSuede.
Products made with these synthetic materials tend to be less expensive than their leather counterparts and are being produced by major manufacturers like Nike, whose Durabuck athletic and hiking shoes "will stretch around the foot with the same "˜give' as leather… and are machine washable," according to company sources. And you won't need to adjust your style, either. Vegetarianshoesandbags.com offers everything from purple faux snakeskin peep-toe pumps for hitting the clubs to hemp sneakers with recycled outsoles that look skate park-ready, to distinctive Pleather bags and versatile woven belts.
GOT AN ENVIRONMENTAL QUESTION? Send it to: EarthTalk, c/o E/The Environmental Magazine, P.O. Box 5098, Westport, CT 06881 USA; submit it at EarthTalk; or e-mail us. Read past columns at our archives.
----------- Sponsored Links -----------
----------- Sponsored Links -----------