And The Winner Of The Greener Gadgets Design Competition Is…
----------- Sponsored Links -----------
----------- Sponsored Links -----------
I love green design – make it sustainable and recyclable with a little bit of geek factor, and I am so there! While I am not one for products that are designed and built just for the sake of selling a green product we don't need (think Ecopod), some of these green gadgets are pretty cool. From Greener Gadgets, who put on this showcase of more than 70 entries, and Core 77, here are the top 4 finishers: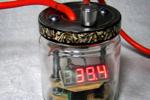 Grand Prize Winner – The EnerJar took top prize of the design competition, both a favorite of the judges and the crowd at the Greener Gadgets Conference in New York City. The EnerJar is an easy-to-build, DIY device that accurately measures the power draw of electrical appliances. Sitting between any wall outlet and the appliance (think blowdryer versus laptop), the EnerJar helps users gain an understanding of power draw, investing them in the knowlege, and leading them to reduce their electricity use.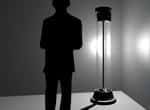 Second Place – Gravia is an LED-lit floorlamp energized by people. To light Gravia, the user places a mass approximately 48″ above the ground, that, in falling, powers a mechanism, generating electricity. Gravia harnesses the potential energy imparted by the user, rather than relying on any existing electrical infrastructure. The design goal of Gravia is to provide light in a room (600-800 lumens – roughly equal to one 40 watt incandescent lightbulb), over a period of 4 hours, using people to generate power.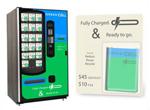 Third Place – Green Cell – Proprietary batteries, plugs, adaptors, rechargers, millions are dedicated to mobile electronic devices, and while they all have the same function, we make them in different sizes. As a marketing strategy it may make sense, but with the environmental state, it doesn't make any. We all know what happens eventually, landfill. We also know that nothing goes away; trash is not the end of plastic or any composite material. Instead, it lives on in landfill for years, decades, centuries, even more. Working within a standardized format helps us all (USB is an excellent example; so are power outlets and even the idea behind good ol' AA batteries). Agreeing to a adopt a handful of constraints doesn't hurt one's marketing campaign; rather, it's a new opportunity for a new business model. It's a more responsible approach, and we'll all live a little more happily ever after. Just think of the next time you forget your cell phone charger: Universal Format, Rechargeable Power Supply. Adopt Green Cell.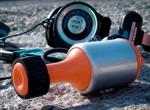 Honorable Mention – The RollOn mp3 player is inspired by a bicycle dynamo. The battery is recharged by rolling the top wheel. Energy from sockets or batteries is unnecessary due to the use of kinetic energy. The cover functions as protection and a function switch. The front wheel has a function as a charge wheel and a multi functional adjust wheel. Songs and tracks can be downloaded and transferred by blue tooth or mini USB from your computer.
Creative people sure are talented, aren't they? I wish I could come up with some of these type of things. And somehow I gotta get invited to the contest next year!
Pictures from Core 77
----------- Sponsored Links -----------
----------- Sponsored Links -----------