Asking PUR About Recycling Filters; Switching To Brita Instead?
----------- Sponsored Links -----------
----------- Sponsored Links -----------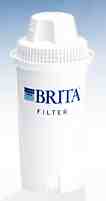 Maybe you guys can help me with a little dilemma I have about my water filter. At my house, we obviously don't buy bottled water as I think it is a waste of money and bad for the environment, but we do have a water filter on our kitchen faucet just to give our well water one final cleaning before we drink it. For as long as I can remember, we have had the same PUR faucet hookup that uses PUR water filters, and it has always worked fine. The bad part? PUR doesn't take back or recycle their used filter cartridges. Brita, the other big company that makes water filters, through some incredible work by my friend Beth at Fake Plastic Fish, has announced that they are going to start taking back their filters with the help of Preserve, who make the recycled plastic toothbrushes that we use. Because Brita will be taking back their filters and PUR doesn't, I wrote a letter to PUR asking them if they had any plans on doing so:
Hello. I am writing to see if you have any plans to start recycling your filters like Brita has just announced they would do because of the Take Back The Filter campaign. I have been using PUR filters for years and years, but have always wanted to recycle the filters once I was done – but had nowhere to do it. I will continue to use PUR filters if you will be or at least have plans for recycling your filters, but otherwise I am contemplating changing to Brita filters so I can recycle them. Thanks in advance for your reply, I will be waiting to hear from you.
I sent this letter to them over a month ago – and still have not heard back and don't expect to. But back to the dilemma I have over this; do I…
Throw my PUR faucet mount and filters into a landfill and buy a whole new unit from Brita with filters that can be recycled?
OR
Continue to use the existing PUR mount but with filters that cannot be recycled?
I am thinking that in the long term, tossing my PUR system and buying a Brita one will be much better for the environment. Those filters catch all the nasty stuff (if there is any) in the water and then are tossed into the landfill, where they leach back into the groundwater again in concentrated form. But in the short term, I will be throwing away a perfectly good faucet mount but will have to continue to throw away the filters.
What do you think? Many people do not even need a water filter at all in their house, but since we are on well water I like to give it one last cleaning to remove any sediment prior to drinking. So either way, I need a filter on the faucet!
----------- Sponsored Links -----------
----------- Sponsored Links -----------