Baby Alert Child Minder Reminds You That Your Kid Is Still In The Car.
----------- Sponsored Links -----------
----------- Sponsored Links -----------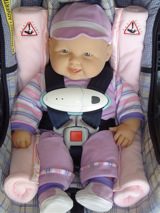 Every summer brings new reports about people "forgetting" their young children in the car, leaving them out in the hot sun with disastrous results while they go to work. The people over at Baby Alert have come up with the "Child Minder" which alerts you that your child is still inside if you go further away than 10 feet from the car. It looks like the alert replaces the chest buckle on your typical car seat and you carry a keyfob that communicates with the buckle.
As sad as it is that people even need this and as terrible that it is that people forget their kids, I am glad to see that something is being done about it. No one ever thinks they would forget their own children, but as we have seen this summer it can happen to anyone. Thanks to Gizmodo for discovering this.
----------- Sponsored Links -----------
----------- Sponsored Links -----------