Best Tasting Soy "Chicken" Patties I Have Ever Tasted.
----------- Sponsored Links -----------
----------- Sponsored Links -----------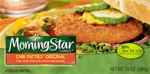 Last night my wife made "chicken" sandwiches…that weren't really chicken. They were breaded soy patties from MorningStar Farms called "Chik Patties Original". Absolutely amazing. If she had not told me what they were I never, in a million years, would have known that it was not actually chicken meat. We have been trying to watch our meat intake (of every kind) and her finding these patties was fantastic. They taste exactly like a breaded chicken breast…I don't know how they do it, but they are quite good. You could serve these to guests and they would never know it wasn't chicken.
I was apprehensive when she told me what they were, but now I know I could eat these in place of chicken anytime. I used to be scared of this stuff, but…yum. Next up, their "chicken" tenders!
----------- Sponsored Links -----------
----------- Sponsored Links -----------