Book Review: Big Green Purse By Diane MacEachern.
----------- Sponsored Links -----------
----------- Sponsored Links -----------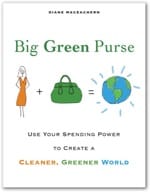 If you needed to pick up one book that both explains what we are up against as a species and what you can do about it, Big Green Purse – Use Your Spending Power To Create A Cleaner, Greener World might be just that book. Far from just a dreadful "The planet is ending, we are all going to die" type of environmental book, this book covers everything from organic foods, recycling, cleaning the house, fair trade coffee, and climate change itself. You might not know it from the title itself, but this is a very good all-encompassing book about our environment and how individuals can make a difference.
At first glance, when I first heard about the book, I really did think it was just going to be a book about how shopping can make a person green. There has been a lot of greenwashing discussion around the internet lately about how companies are trying to get us all to consume as much as we used to, and how it is OK as long as we are buying green. But that is simply not the truth, and I was worried that was what this book was about. But Ms. MacEachern tells the reader right away that the most important thing we can do as a people is Reduce, Reuse and Recycle – but that yes, we still do need to shop. And this is where the Big Green Purse comes into play. In spending our money mindfully on the items we still need to buy, we can make a difference from the corporations all the way down to your local grocery store. I don't carry a purse and I learned quite a bit from this book!
This book is a great one-stop guide to being green and when necessary, buying green. It would make a perfect gift for someone who needs a friendly book on how to be more green, as well as for someone (like myself) who knows a lot about this stuff but needs to look things up once in a while. There is also a website that goes along with the book called Big Green Purse that has a ton of info on, so if you have a chance be sure to check it out!
----------- Sponsored Links -----------
----------- Sponsored Links -----------