Biomass Power Station Will Burn Palm Kernel Shells
----------- Sponsored Links -----------
----------- Sponsored Links -----------
A new biomass power station has been given the green light for a site in Teesside in the UK. This 49 megawatt station designed by British designer Thomas Heatherwick should be able to power at least 50,000 homes using palm kernel shells, which are a by-product of palm oil plantations. This is normally a waste product that gets thrown away, so seeing it being used to make electricity is pretty cool. Fuel will be delivered via boats on the neighboring river and the building will be covered with plants: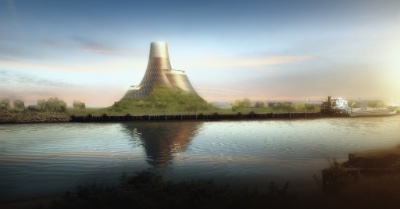 Biomass is a renewable energy source made from biological material from living organisms such as wood, waste, (hydrogen) gas, and alcohol fuels. Biomass is commonly also plant matter grown to generate electricity or produce heat. Biomass may also include biodegradable wastes that can be burnt as fuel. It excludes such organic materials as fossil fuels, which have been transformed by geological processes into substances such as coal or petroleum.
Not only is this a great project and way to generate electricity from a renewable resource (unlike coal or oil), but the design of the plant itself is gorgeous. What do you guys think?
----------- Sponsored Links -----------
----------- Sponsored Links -----------