Book Review: The Blue Death By Dr. Robert D. Morris.
----------- Sponsored Links -----------
----------- Sponsored Links -----------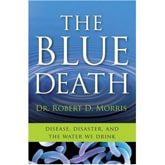 I had a chance a while back to get an advance copy of the new book "The Blue Death" by Dr. Robert D. Morris and I have just finished reading through the book. I get a lot of books to review and most of them are not any good, but this one is surely an exception…it is entirely gripping, full of very useful information and it taught me things that I had no idea about. Dr. Morris is an environmental epidemiologist and a leading researcher in the field of drinking water and health, so obviously he knows what he is talking about. And what he wants us all to know is that our drinking water is far from safe…in fact, it is just waiting for a terrible outbreak of a waterborne disease. I can tell you this – it is a scary book, but also gives hope that something can be done to change the way we use and abuse our drinking water.
"The Blue Death" is written like a fiction novel – from locations set in 19th century England to our modern day, the book weaves tales and facts about cholera outbreaks, typhoid fever, micro-organisms spreading through our water supply and other water-borne pathogens infecting the public. And although we all feel contentedly safe about our water supply, Dr. Morris let's us in on a little known secret – our water is on the verge of poisoning all of us if something is not done to protect it. Filters we have in place do not stop every bit of bacteria, the use of chlorine to clean what water we have is potentially toxic, and how the government is so endeared to the drinking water industry lobbyists that nothing is ever actually done to preserve the safety of our water.
If you are looking for a good informative read that goes quickly and acts like a fiction novel, this book might be for you. At times, it is terribly depressing…knowing we could be one false move away from killing millions of us is disheartening. But at the same time, the call to action has been issued and more people should learn about the dangers surrounding our water supply. Check it out if you have a chance, I highly recommend it.
----------- Sponsored Links -----------
----------- Sponsored Links -----------