Book Review: Vanishing World – The Endangered Arctic.
----------- Sponsored Links -----------
----------- Sponsored Links -----------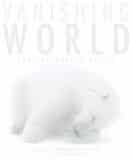 I was sent a copy of this beautiful hardcover over-sized book "Vanishing World – The Endangered Arctic" a little while ago and I am just getting around to writing a little something about it. If you want to see beautiful photographs of the arctic vanishing right before your eyes, you should check it out. The book took 5 years to put together, and you can tell that these people truly care about our environment by looking at the pictures. While it is not something you sit down and read over the weekend, we have had it out on the coffee table and I often pick it up to flip through, marveling at the beautiful arctic scenery that might be completely changed in my lifetime.
I also think this book would be perfect for children to look through – the images are astounding and would probably enthrall kids who love nature. We adults have become accustomed to seeing images of the arctic, but for kids just starting life now, this stuff will definitely be gone by the time they are adults. It's a scary world we live in – and luckily we have people who put together books like this one to show us what we might not notice. And I think as soon as we are done perusing it for a while, I will send it with my wife to her school so her kids can enjoy it. If you have a chance, check this book out and see what I am talking about, it is quite beautiful.
----------- Sponsored Links -----------
----------- Sponsored Links -----------