Building A Pre-Fab House Can Cut Construction Waste By 90%.
----------- Sponsored Links -----------
----------- Sponsored Links -----------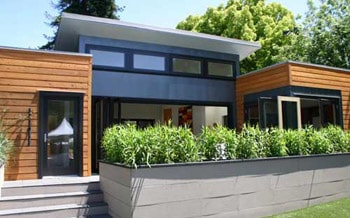 I often contemplate buying land somewhere and building my own house. It would be real nice to raise kids somewhere that I have room to breathe and run around. I don't know where or when, but that is my goal in life. I would like several acres to play with and grow my own food. Dreams are good, no?
The house that I REALLY want to build is the Breezehouse, by Michelle Kaufmann Designs. I have been following Kaufmann's projects for a few years, and even drove all the way to San Francisco one year to attend the Sunset festival just to see the model of one of her designs, the Glidehouse. While I fell in love with it immediately, my current favorite is the Breezehouse. Fully green, non-toxic and reasonably priced…check it out at the link above if you have a few minutes!
That all being said, building a pre-fab house definitely has its advantages over stick built houses, especially when it comes to the environment. I came across this article over at edie news centre that talked about how building pre-fab houses can cut construction waste by 90% due to the efficiency of a factory build. This is what they had to say:
Some of the biggest waste streams in traditional construction are packaging (up to 5%), timber (up to 25%) and plasterboard (up to 36%).

Up to a 90% reduction can be achieved by reducing wastes such as wood pallets, shrink wrap, cardboard, plasterboard, timber, concrete, bricks and cement by increasing the use of off site manufacture and modern methods of construction.

The report also identifies the key off site manufacture and modern methods of construction systems that offer significant opportunities to reduce waste levels on site, including:

– prefabricated kitchens and bathrooms;
– timber frame systems;
– light steel frame systems;
– structural insulated panels;
– pre-cast concrete systems
Count me in! Now when the time comes to build my dream house, not only will we be greening my own life, but I will be significantly cutting down the amount of waste my house would generate during construction. Score!
technorati: Glidehouse, Breezehouse, Construction waste
----------- Sponsored Links -----------
----------- Sponsored Links -----------