Building Green TV Starts Airing Today On PBS.
----------- Sponsored Links -----------
----------- Sponsored Links -----------
As of today, a new program called "Building Green" started running on PBS. Now, I love watching these kind of shows and I am glad that there will be one more for me to Tivo each week. However, my only problem with it is that green or not, this is a GIANT house: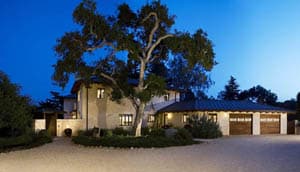 "Join us for Season One of Building Green and follow the adventures of host Kevin Contreras as he builds his Santa Barbara dream house, out of straw. Be privy to every detail, from the foundation to the furnishings, and learn alongside Kevin from some of the country's leading experts in green building techniques and materials."
But in my opinion, no matter how green your house is, if you are building a mansion, you are not really being environmentally conscious. Hopefully I will be proven wrong here. I am sure it is absolutely beautiful, both inside and out, but I will try to keep an open mind until I start seeing the episodes on PBS. I hope it is as green as they are touting it to be! You can preview some episodes over at Building Green TV and look for the TV listings for your area.
----------- Sponsored Links -----------
----------- Sponsored Links -----------