Catalog Choice – Eliminate Unwanted Catalogs You Cannot Seem To Stop, For Free.
----------- Sponsored Links -----------
----------- Sponsored Links -----------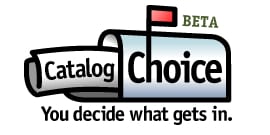 Although it is still in "Beta" form, this new FREE service from Catalog Choice could be a godsend if you get catalogs from companies even if you have asked them to stop. These guys contact the publishers for you, making sure you are kept off the mailing list. So if you get too much crap in the mail and you want it to stop, you might want to check them out. I know I will because certain companies will not stop sending me catalogs even though I keep calling them! And I am sure some of you have heard of Green Dimes for getting off mailing lists, but these new guys are A. only for catalogs (as far as I can tell), and they are free, unlike Green Dimes. It might be worthwhile to use both services if you get a lot of junk!
----------- Sponsored Links -----------
----------- Sponsored Links -----------