Ideas Needed – What Can We Do About Littered Cigarette Butts?
----------- Sponsored Links -----------
----------- Sponsored Links -----------
Smoking rates have declined steadily here in the United States, due to high taxes and the availability of health information, but the fact remains that 20.6% of our adult population still smokes cigarettes. That's an estimated 46 million people discarding cigarette butts every day, and many of them are still throwing them out the window of their moving cars or dropping them on the sidewalk. Just yesterday morning I had one land on my windshield after being heaved out of a monster truck in front of me, and it got me to wondering — what could we all do to stop people from tossing their trash on the ground?
While smokers don't seem to mind too much when they are inhaling the smoke, finished cigarette butts are not only not biodegradable, but their filters are made of cellulose acetate (a plastic) and they are full of nicotine, tar, arsenic, vinyl chloride, acetone, and mercury, among thousands of other chemicals. When thrown out a car window or dropped on the ground, these butts full of chemicals can leach into our aquifers and drinking water, find their way into rivers and streams, and even end up being eaten by small animals. The ingredients are toxic to wildlife, especially to saltwater and freshwater fish, and annually leave behind over 1.5 billion pounds of litter around the globe.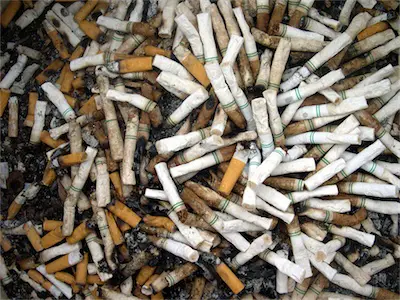 So what can we do about it, smokers and non-smokers alike?
Well, that's what I was wondering and I wanted to ask for your input. There are all sorts of anti-smoking advertisements and campaigns, but we know that those don't actually do anything to stop people from smoking. So is there anything we can do to at least clean up the act of smoking, so that those who choose to continue doing so will be responsible in the disposal of their trash? Look on any street corner and chances are it's covered with old cigarette butts; we can do better, can't we? I mean, you wouldn't just drop a soda can or candy wrapper on the ground when you were done with it, so why is it OK to drop a cigarette butt? We may not be able to stop people from smoking, but is there anything we can do to educate smokers about how their trash is negatively impacting the planet and the rest of us?
If I can gather enough responses from you guys, I will put together a one-sheet of sorts which I will make available here on the site for everyone. And if you are so inclined, you can please pass that information along to your local city managers or waste management folks, encouraging them to develop a campaign to educate smokers on the dangers of littered cigarette butts. If we can't get smokers to quit smoking for their own health, maybe we can encourage them to at least be responsible with their trash.
What do you think? Should we give it a go? I need your help to make it happen, so if you have some advice or ideas, please weigh in via the comment section after this post. I look forward to hearing what you have to say!
Photo from BigStock
----------- Sponsored Links -----------
----------- Sponsored Links -----------