Save up to 70% on Reusables at the Warehouse Sale on Reuseit.com
----------- Sponsored Links -----------
----------- Sponsored Links -----------
One of my favorite stores online for all things reusable is Reuseit.com. Living in a throw-away society like we do, it's sometimes difficult to find products that are designed to be reused over and over again while also reducing waste in our landfills. I have bought many things from these guys over the years, from my Klean Kanteen water bottles to my reusable produce bags, and I am always on the lookout for when they have a sale. Well, they are currently having their annual warehouse sale and many of their reusable items are reduced by 70%, so if you have been thinking about switching your disposable everything over to reusable everything, now may be a good time to do so. Check out a few of the products on sale: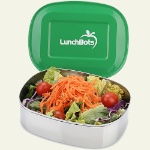 These 100% stainless steel LunchBots make it easy to avoid the waste of disposable plastic containers, baggies, plastic bags & aluminum foil. This larger, single compartment container is perfect for main dishes like salads, pasta or takeout and are the perfect eco-friendly containers for a healthy and safe lunch. It's BPA-free and it won't stain, rust or leach harmful chemicals into your food. If you take the time to make a healthy lunch, why put it in a non-healthy lunch box? On sale for $13.95, down from $19.95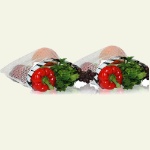 These BlueAvocado produce sacks are sturdy enough to hold up to 10 lbs of produce each and are great for larger foods such as cauliflower, broccoli, grapefruit and cantaloupes. Wash your fruit & veggies right in the fast-drying mesh bag. The ventilated mesh material makes the bags perfect for items that need to breathe. The bags have a drawstring closure, are machine washable, and are made from recycled materials. In addition, the company gives 1% of sales to organizations like Kiva.org. On sale for $4.95, down from $9.95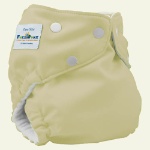 Reusable cloth diapers are a simple way to cut back on waste and save thousands of dollars in the process. These are easy to use and easy to clean. Each diaper has a back pocket for the super-absorbent insert (just remove the insert & wash). They are adjustable (fitting babies 7 to 35 pounds), so they can grow with your child. On sale for $14.95, down from $19.95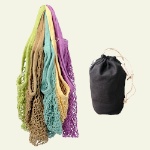 Set of 5 Ecobags in different pastel colors (from colorfast, low-impact dyes) and 1 hemp stuff sack to keep them in. These shopping bags are fantastic to always have with you, regardless of what kind of shopping you are doing. They are very lightweight and can each hold up to 40 lbs of goods. You can never have enough of these type of bags, and I often have several by the front door and several more in the car, just in case. On sale for $24.95, down from $31.95
There is tons of stuff on sale over at their online store, so take a peek to see if anything catches your eye. The key to buying responsibly is to not buy the things you don't need; so if you don't need any new reusable goods, please don't buy any! But if you are looking for these type of items, whether you are just starting to go green or to replace long-used broken ones, by all means take advantage of sales like this.
----------- Sponsored Links -----------
----------- Sponsored Links -----------