Confession – I Have A Lot Of Pairs Of Shoes, But They Are Mostly "Green".
----------- Sponsored Links -----------
----------- Sponsored Links -----------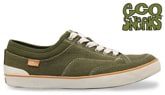 I like shoes. There, I said it. It has been a problem of mine for a very long time and I am just now starting to admit it as such. However (and you knew this was coming), I have made great strides in making sure the majority of my shoes are "green"…even if that does not really excuse the fact that I have so many pairs. At least I don't think it does…does it? Right now in my closet I have 6 pairs of shoes from Simple – yep, 6. 2 pairs of flip flops, 2 pairs of sneakers, and 2 other pairs that are more "shoe" like rather than "sneaker" like. In addition to these 6 pairs, I also have running shoes, a couple of pairs of dress shoes, some hiking shoes, and an old pair of boots that needs to be replaced ASAP. When the time comes, I will probably be buying these Earthkeeper boots from Timberland, but they are kind of pricey and I just don't need or want to shell out the cash right now.
Now, I don't have that many other articles of clothing, so is it OK to own this many pairs of shoes? I don't know, but if I had to choose, I would definitely choose more shoes over more t-shirts. 🙂 But trying to buy only "eco-friendly" shoes can be difficult. How about you? When you go shopping, do you try to buy eco-conscious goods? Do you have an addiction to a certain article of clothing?
----------- Sponsored Links -----------
----------- Sponsored Links -----------