Cooling Down Your Space Without Air Conditioning
----------- Sponsored Links -----------
----------- Sponsored Links -----------
I currently live in New Mexico, where daytime summer temperatures are usually between 90 and 100 degrees fahrenheit. However, there is one thing I am missing in my place that I have normally had access too, and that's air conditioning. It's a really small space that I work in, but it warms up rather quickly in the afternoon due to the temperature outside and the fact that the majority of glass faces due west — getting the brunt of that hot afternoon sunshine. I decided not to buy a real air conditioner for the place because it's only a rental, nothing would correctly fit in the windows, it would keep my energy costs down, and I wanted to see if I could go without for the summer. But some of these days get incredibly hot when sitting at home in front of a computer screen trying to work! So what did I do to try to combat the heat? I made my own air conditioner out of a box fan, a big bowl full of water, and some refreezable ice packs that most everyone has somewhere in their freezer. It's basically just a cheap evaporative cooler (or swamp cooler) with a total cost of about $45.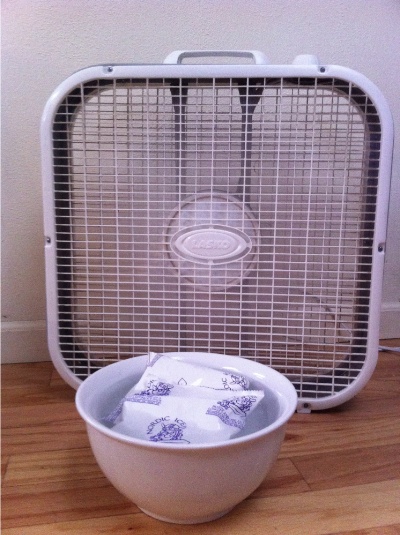 All I did was set up my box fan behind the bowl full of water and ice packs, and voila –
I was blowing cooler air into my space
. I rotated the ice packs in and out of the freezer as they melted down, so I always had at least a few icy ones in the bowl to keep the water cold. Every few hours I had to refill the bowl a bit as the water evaporated, but I really only needed to use the "unit" during the afternoon so it wasn't too much work. I may have lowered the temperature near me by only a few degrees, but it made all the difference in the world. Combine that with the heavy curtains I hung in front of the french doors to try to stop the sunlight, and I made the space a lot more comfortable to be in during the afternoon.
----------- Sponsored Links -----------
----------- Sponsored Links -----------