"Destiny" – The New Eco-City Near Orlando, Florida.
----------- Sponsored Links -----------
----------- Sponsored Links -----------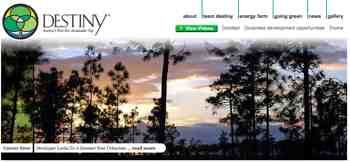 There is a new eco-city slowly going in down in Florida called Destiny, and I wanted to share this press release that a reader forwarded to me yesterday. It sounds rather interesting; a little too "prefab" for my taste, but if they can pull this off successfully without it being a giant greenwash, I think it could succeed and be replicated in other communities. And anything that stops sprawl and starts containing smaller communities is definitely something I am in support of!
Destiny, Florida is a 41,300-acre "Green" Community and Hub for Eco-Friendly Companies and Leading Environmental Research
The developers of Destiny, a 65-square-mile city located one hour south of Orlando, Florida, have retained Rubenstein Public Relations (RPR) to help launch this innovative community and spark interest among "green" technology companies, developers and researchers.
According to RPR President Richard Rubenstein: "Destiny serves as a model for future development and stands as a testament to the symbiotic relationship between business and pro-environmental policies. We look forward to raising greater awareness for Destiny and attracting alternative-energy companies and leading scientists and researchers to relocate to the city."
RPR will generate national and international coverage in mainstream newspapers and magazines covering "green" lifestyles, technology, real estate, business, architecture and design. The agency is also planning a major launch event for Destiny, and press events announcing individual attractions in the city.
"We are pleased to work with Rubenstein Public Relations as we unveil the many exciting components that will comprise Destiny," said Randy Johnson, Destiny's chief operating officer. "Rubenstein's expertise in both real estate and 'green' technology will help us communicate the many benefits of living and working in this one-of-a-kind community."
Destiny is the largest "green"-planned development in the United States and will offer a healthful environment with ample open space, sustainable infrastructure and thoughtful preservation.
Residents will enjoy hundreds of miles of walking and riding trails, along with over 200 miles of navigable waterways, which will offer recreational opportunities and serve as a vital component of Destiny's multi-modal transportation system.
The city's International Clean Technology Center will be a hub for businesses and researchers focused on developing clean technologies, renewable energy sources and alternative fuels that will reduce reliance on fossil fuels, enabling and inspiring consumers worldwide to cultivate a sustainable lifestyle. Destiny will feature a 400-acre energy research park; NexGen Airport, with a mixed-use terminal; and Florida's first E-Station, a 6,000-square-foot refueling station that will include electric automobile charging stations, along with a solar and geo-thermal "green-mart" convenience store.
Destiny will also provide housing in every price range, as well as rental properties to encourage diversity of age and socio-economic backgrounds.
What do you guys think? Good? Bad? Indifferent?
----------- Sponsored Links -----------
----------- Sponsored Links -----------