Do One Thing: Buy Checks Made From Recycled Paper & Printed With Soy-Based Ink.
----------- Sponsored Links -----------
----------- Sponsored Links -----------
This weeks Do One Thing is about the checks that you write. If you are anything like me, you don't write many checks at all – I think I write about 2 or 3 a month at most with everything else being paid automatically online (the greenest way to go). But because we ran out of our last batch of checks left over from California, we needed to order new ones with our New Mexico address, and I refused to pay the fortune that the bank wanted to charge me for new checks. In looking at online options for check ordering, a Twitter friend recommended The Check Gallery, which proclaims to be "America's leading earth-friendly check printer". What a great find! They print their checks on recycled paper using vegetable-based ink, and they cost the same as most other check printers I have ever used.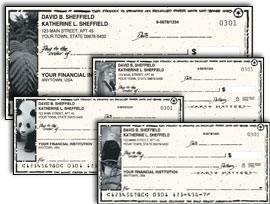 We ended up ordering two boxes (buy one get one for $.10 for new customers) of the Earth Matters checks above and we are very happy with them.
So the next time you need to order checks, consider ordering ones made from recycled paper and printed with soy-based inks – the environment will thank you!
----------- Sponsored Links -----------
----------- Sponsored Links -----------