Double Sided Post Card Saves Some Trees.
----------- Sponsored Links -----------
----------- Sponsored Links -----------
Instead of sending your friend a postcard from the beach with a picture of some dolphins or a girl in a bikini on it, why not try out these double-sided postcards? After your friend receives it, they can write on the other side and send it back to you, all without using another piece of paper. These would be perfect for writing to your Grandma or other people to try to get them to write back to you: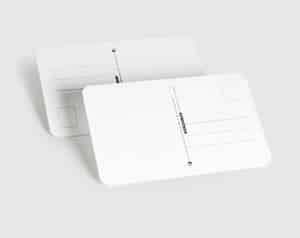 They are available at Atypyk for $6 for a pack of ten. Of course, you could just cut out some old cardboard you have lying around and draw some lines on it, but I am not sure how Grandma would like receiving old paper in the mail…
Via Better Living Through Design.
----------- Sponsored Links -----------
----------- Sponsored Links -----------