As enlightened individuals and readers of The Good Human, we ask many questions about our planet….and I feel that there is value in learning how our Universe works at an atomic level, in the quantum world.
Physics is baffling, but it can help us to recognise the bigger picture. Or at least to recognise that there is a tonne of stuff that we just don't know! There has been huge interest in the article that was published last week about the big bang and quantum gravity, so I wondered if there would be space for some further discussion around physics. Particularly as there is huge synergy between many areas of spirituality and physics.
We choose to examine a phenomenon which has in it the heart of quantum mechanics. In reality, it contains the only mystery. ~R. Feynman
So in order to unravel 'the only mystery' I wanted to start with Richard Feynman's infamous 1965 experiment – The Double Slit! It is absolutely mind-blowing and a perfect illustration of the apparent illogical way that our world works when you get down to the quantum level. You can read all three volumes of his lectures here.
I implore you to watch this video before we go any further…..it can explain this phenomenon far better than I can.
So the first crazy fact here is that electrons can act as a particle or a wave. They can even act as a wave when they are fired individually – i.e. when there is nothing to interfere with it's path.
When anaylsed in the world of mathematics it is considered that each individual electron goes through both slits, and neither, and only the left one as well as only the right one. Confusing? Yes. Amazing? Definitely!
The pattern below is what we see when particles are fired at a double-slit:
The pattern below is what we expect to see when waves are fired at a double slit (interference pattern):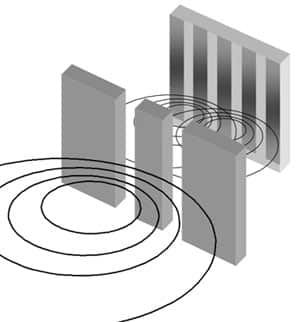 Incredibly, this is the pattern that develops after a series of individual electrons are fired at a  double slit:
Now to add further weirdness to the mix, it has been found that matter can act as both a wave and a particle depending on whether or not it is being observed. So is is true that the electrons knew that they were being watched?
Some scientists think that they can!
Bach et al published a study in 2013, which aimed to demonstrate Feynman's hypothesis on a practical level. This extract is from his research.
Double-slit diffraction is a corner stone of quantum mechanics. It illustrates key features of quantum mechanics: interference and the particle-wave duality of matter. In 1965, Richard Feynman presented a thought experiment to show these features. Here we demonstrate the full realization of his famous thought experiment. By placing a movable mask in front of a double-slit to control the transmission through the individual slits, probability distributions for single- and double-slit arrangements were observed. Also, by recording single electron detection events diffracting through a double-slit, a diffraction pattern was built up from individual events.
The team took measurements of the position of electrons fired individually, with a mask in a series of positions. First blocking both slits, then one slit, then none and then the opposite slit. The double-slit pattern was seen when the electrons had access to both slits, but not seen when one slit was blocked. You can watch the pattern of electron build up on the video below.
Their experiments do correlate with Feyman's way of thinking. It opens the door to far more questions!
If tiny electrons behave as waves……
…….and if tiny electrons are affected by being observed…..
….can the tiny electrons that make bigger things (such as human beings) also behave like waves and change depending on whether we are being observed?
What do you think? "Everything that can happen does happen"? Or is that quite enough physics for you thank you very much? We would love your feedback!