Earth-Inspired Living: Apartments That Help Our Environment
----------- Sponsored Links -----------
----------- Sponsored Links -----------
Living an environmentally-conscious lifestyle still carries a stigma of sacrifice. Take these common excuses for not making changes in our daily habits:
"There's no way I could ever give up meat – I need the protein."
"I need my truck to haul things."
"I'd compost, but I don't want to attract scavenger animals to my yard."
Whatever our reasons for not adopting eco-friendly practices into our regular routine, there's likely a modern-day fix. Order a Reuben sandwich with tempeh instead of corned beef. Trade in your 15-mpg beast for a hybrid Yukon that hauls the same load. You can even buy a ready-made, raccoon-proof compost container. Across the spectrum, technology and progress have found solutions to appease our green-mindedness.
It's our homes that leave behind the largest eco-footprint. City dwellers have a green advantage over suburbanites, with a smaller impact on the land due to consolidating. But for the earth-minded apartment renter, it can be frustrating knowing that your old windowsills are leaking climate-treated air, or watching piles of plastics tossed into the garbage when a building or city hasn't coordinated a recycling program.
Fortunately, the green movement no longer demands daily sacrifice (although riding your bike to work, if you call that a sacrifice, is still better for the earth than a hybrid Yukon). In fact, these days, 'green' may even be synonymous with 'luxury.' Nowhere is this more obvious than in the growing number of eco-friendly apartment buildings around the country, where an earth-conscious approach goes right in hand with jacuzzi jets in the tub and the views from wall-size windows.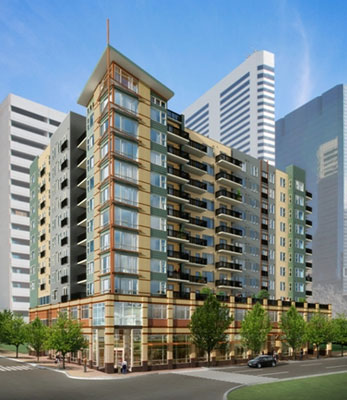 Solera in Denver
Here are a few of the most notable recent projects:
Solera – Denver, Colorado

Attention to the community details sets this Gold LEED-certified complex apart from competitors. Tops among the rarities? An in-house bicycle repair workshop. The building also includes single stream (no sorting) recycling facilities on each floor and a rooftop observation deck equipped with a solar trellis providing power to the building. That's not to mention the community kitchen and Mac bar, with shared computers, free tea and coffee, and a pool table and Wii. It's all the advantages of living alone and having roommates in one place, and everyone's on the same page when it comes to respecting the planet.

http://www.soleraliving.com

Alta at K Station – Chicago, Illinois

Boasting 848 units, this massive building stands out among a handful of LEED-certified apartment offerings in Chi-town. In a city where rooftop gardens are becoming the norm, Alta includes rainwater irrigation, an outdoor pool and spa, and a basketball court. The biggest apartment building in the country to boast LEED Gold credentials, Alta covered all the basics, from water-efficient showerheads to "low-E" window glass that filters away heat from the sun during summer, while maximizing natural light absorption. In addition to individual bicycle storage, the building even offers on-site Zip Car rentals, so you can put your gas guzzler on Craigslist and wave goodbye forever.

http://www.altaatkstation.com

Denny Park Apartments – Seattle, Washington

What sets Denny Park apart isn't its massive scale or groundbreaking technological innovations, but it's accessibility to low-income renters. The building's 50 units serve households making between 30 and 60 percent of the median income (rent is as low as $329/month), and include eight transitional units for homeless families with children. But make no mistake – these are quality digs. Clean air was prioritized in the design, with intake and outtake ventilation constantly flowing to prevent the accumulation of indoor air toxins. Denny Park's stormwater planters and retention system is the first of its kind in already-progressive Seattle, and everything from carpets to ceiling tiles were sourced from recycled materials. The best part? The project's non-profit chose only materials with at least a 50-year life span, allowing the apartments to serve low-income families well into the future.

http://www.designadvisor.org/green/denny_park_apartments.htm

Cor – Miami, Florida

With its Salvador Dali-esque silhouette stretching out over the azure waters of south Florida, Cor gets a nod for its sheer style. Rounded, amoeba-shaped windows give way to wind turbines built into circles that stretch into the sky, built beside photovoltaic panels and solar hot water heaters. The strikingly unique exoskeleton provides both shade and natural light for social and living areas that include trees and bushes amidst furniture and amenities that scream Miami style. Apartments feature recycled glass tile flooring, bamboo-lined hallways, and of course, stunning views of South Beach.

http://www.oppenoffice.com

Los Vecinos – San Diego, California

Much like Seattle's Denny Park, Los Vecinos gets props for its status as an affordable housing project. But it makes the cut here as a LEED-Certified Platinum, 100 percent solar-powered affordable housing complex. Utilizing the sun in southern California's desert climate is beyond sensible, but few have taken it to the extremes Los Vecinos has, designed to derive all of the building's power needs from our closest neighboring star. Apartments have individual solar panels hard-wired directly to them, crediting the system for whatever they don't use. A former vacant motel, the state-of-the-art complex now serves residents making between $16,600 and $58,800 annually.

No website
Honorable Mentions

Indigo – Portland, Oregon (The nation's first LEED-platinum apartment building)
ECO Modern Flats – Fayetteville, Arkansas (LEED-platinum, in America's heartland)
360 State Street – New Haven, Connecticut (This luxurious complex includes an on-site 400kW fuel cell to produce clean electricity)
The Greenhouse – Charlottesville, Virginia (Their green rebuild of an old apartment building included 90 percent of the original building's materials)
Tribeca Green – New York, New York (Perhaps the finest in a city rich with LEED-certified apartment options)
Although building to LEED or green specifications costs slightly more at the onset, savings from energy efficiency, water conservation, and durability can quickly offset the expense. And that's not to mention the health benefits of a non-toxic, Earth-inspired living space.
Those same costs and savings apply to the renter as a consumer. Fortunately, our options are multiplying.
Tim Eyre helps residential and business customers who use self storage when they don't have enough storage space on their own property. Tim's company – Extra Space Storage – has locations from coast to coast, including a Chicago self storage facility and a location providing self storage units in North Aurora.
----------- Sponsored Links -----------
----------- Sponsored Links -----------