Eco-Friendly Purchases On Our Vacation.
----------- Sponsored Links -----------
----------- Sponsored Links -----------
As I have mentioned several times lately, we just got back from a vacation driving through the Southwest and had a great time. On our trip we purchased a bunch of eco-friendly products that strangely enough we could not find around our house here in Los Angeles. I am sure stuff like this is here somewhere, but in Santa Fe and Taos, there were several stores that sold things that I wish a store near us would sell!
At a store called Santa Fe Hemp, we were in heaven. Not just because of the hemp products although they were all great. The entire store was so liberal and green it was scary, even for me! All the shirts, hats, bags, and shoes were made of hemp or organic cotton, which is always great. I wish more stuff was made out of it. They carried bumper stickers and buttons with all sorts of environmental and political slogans, along with candles, soaps, lotions, etc.
While we could have bought everything in the store, we calmly made our selections. Both the wife and I both got new bags made from hemp, mine a messenger bag I can use on my now car-less trips around town and hers a new small purse-like thing. I also got a new wallet made from 100% hemp, which was perfect timing as my old leather one was on its way out.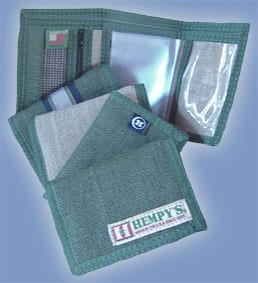 As for household stuff, we picked up a few soy wax candles that burn clean and leave no toxic petroleum byproducts in the house and some lip balm made from hemp but flavored with cinnamon. My lips were incredibly chapped from all the sunshine, so this was a welcome addition. We also got some olive oil and soybean oil soap scented with juniper (I don't even know what that is, but it sure smelled good) that does a great job cleaning.
If you have a few minutes and are looking for some quality stuff, you might want to check out their website above. It's a cool shop and the prices are totally reasonable. Once you get past the stupidity of the hemp=marijuana thoughts, you realize that most everything should be made out of it. The fact that it isn't is kind of dumb. For information on hemp and its uses, you can check out the wikipedia page about it.
technorati: hemp, products, eco-friendly
----------- Sponsored Links -----------
----------- Sponsored Links -----------