Film To See – Everything's Cool: A Toxic Comedy About Global Warming.
----------- Sponsored Links -----------
----------- Sponsored Links -----------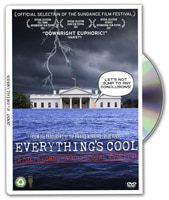 Seeing as how this DVD gets released today I figured it was a good time to give my review of the advance copy I received a few weeks ago of Everything's Cool: A Toxic Comedy About Global Warming. An official selection at the Sundance Film Festival, SXSW Film Festival, Full Frame Documentary Film Festival, and the Hotdocs Int'l Film Festival, I figured I was in for a great documentary about global warming. And I was right – and wrong. It is more than just a documentary; it is a demonstration of what forces we "environmentalists" are up against in trying to get the word out about global warming.
I had seen the previous film by the producers called Blue Vinyl (and even reviewed it here) and was impressed by that film so I was looking forward to watching this one. The film starts back before the 2004 election when polls were showing that the subject of global warming was dead last on anyone's mind. The filmmakers set out in a biodiesel truck to see if the polls were right, and made their last stop the night that Bush "won" the presidency. They found that an inordinate amount of people still considered global warming to be one of three things:
1. Not happening.
2. Not caused by us.
3. A good thing cause, well, it's cold out.
Turns out that the public didn't seem to know what almost every legitimate scientific study has determined to be true – humans are causing the planet to warm up…and if we don't get our act together, the earth will do it's part to rid itself of us. So the filmmakers spent the next few years spending time with the news makers and policy makers that are trying to get the word out on global warming, watching the impossible slowly start to happen – more and more people accepting that global warming is happening and something should be done about it.
If you want a very informative, non-judgmental and non-preachy movie about global warming, you should check this one out. If I didn't already have a copy, I would love to have gotten this for Christmas…but then again, I like getting anything having to do with the environment as I figure it just gives me more information to dispense and talk about! For more information, check out EverythingsCool.org and City Lights Media.
----------- Sponsored Links -----------
----------- Sponsored Links -----------