Film To See – Independent America: The Two-Lane Search For Mom & Pop.
----------- Sponsored Links -----------
----------- Sponsored Links -----------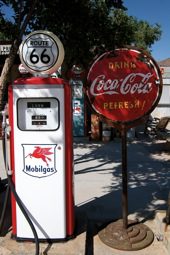 For this film, Filmmakers Heather and Hanson set out across the country for a few months to find "Mom & Pop America", where communities still support their local stores instead of shopping at big box retailers. We got this from Netflix about a week ago and I really cannot stop thinking about it. Before they left on their trip to film Independent America, Heather and Hanson set up two rules:
1. No interstates. Secondary highways and country roads only
2. They could only do business with Mom & Pop stores.
This film shows that there might be some hope for Mom & Pop stores. Some communities out there are fighting the big box retailers, imposing such strict guidelines on their construction that they oftentimes pull out of town. The filmmakers spend a lot of time talking to normal people around the country, along with economists, union leaders, politicians and even a top executive from Wal-Mart. They believe they have found that more communities are tired of being bullied around by these stores and are starting to fight fire with fire, sometimes coming out the champion.
This is a great documentary that has to be seen by anyone concerned about what the big box stores are doing to small communities. You can get it at Netflix, I know that for sure, probably your local video store, and you can also get it from the website as well.
I really recommend you see this movie. If you are interested in some further info about this type of thing, I can also recommend the book "Nickel and Dimed"…I read it earlier this year and my wife just finished. It is a great book written by a woman who went and worked at various companies just to see how they treated their employees. Great stuff.
----------- Sponsored Links -----------
----------- Sponsored Links -----------