First Generation Plug-In Chevy Volt To Cost $40,000?
----------- Sponsored Links -----------
----------- Sponsored Links -----------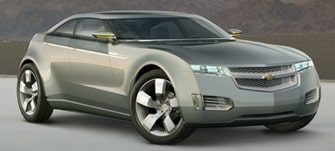 Anyone else think that they are trying to scare the public away from being interested in electric cars again? It's bad enough that the American car manufacturers keep telling us that higher MPG standards will add thousands to the cost of new cars…but yet the Prius gets 45 MPG around town and costs only $21,000. AutoblogGreen has reported that Bob Lutz came out and said that the all-electric plug-in Chevy Volt could cost $40,000 when it comes out…that's pretty funny, Bob. And so very scary! Please, give me back my gas guzzler! Toyota plans on having a plug-in hybrid available by 2010 and do you think they will charge $40,000? No way…and I personally think the Volt is quite ugly. I saw one on display 2 months ago and did not think it was all that great. I would buy a Prius over that thing any day.
----------- Sponsored Links -----------
----------- Sponsored Links -----------