Fisher-Price Recalls One Million Toys Because Of Lead Contamination.
----------- Sponsored Links -----------
----------- Sponsored Links -----------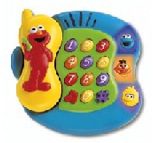 For you parents out there, from CNN:

"Toy-maker Fisher-Price is recalling 83 types of toys — including the popular Big Bird, Elmo, Dora and Diego characters — because their paint contains excessive amounts of lead."
Are we sure that Free Trade and getting things for so cheap from China is a good idea? As more and more of these cases come out, I am hoping people start realizing the dangers of depending on other countries for all of our goods just so we can get them for less money.
----------- Sponsored Links -----------
----------- Sponsored Links -----------