Giveaway: Four Copies Of 'The Healthy Home'
----------- Sponsored Links -----------
----------- Sponsored Links -----------
It's time for another giveaway here on The Good Human! This time I am giving away 4 copies of the book The Healthy Home: Simple Truths to Protect Your Family from Hidden Household Dangers by Dr. Myron Wentz and Dave Wentz, which I just recently finished reading myself. Full of great information and advice about the toxins we could be poisoning ourselves with inside (and outside) of our homes and what to do to clean them up. The authors walk the reader through a typical house, pointing out the dangers that may be hidden from view but can be serious health issues. While a lot of the information is probably well-known by long-time readers of this site, I learned quite a few tips that I can implement in my home right away. Here's a snippet from the book:
Have you ever considered:

– Chemicals added to fabrics to enhance durability and stain and wrinkle resistance have been linked to both reproductive and developmental toxicity, as well as cancers of the liver and bladder. But organic cotton contains none of these.

– Aluminum can induce oxidative damage, which has been linked to Parkinson's and amyotrophic lateral sclerosis (ALS), yet a typical dose of your regular antacids can contain as much as 400 mg of aluminum. A little soda water anyone?

– Your cooking pans coated with non-stick Teflon can release six toxic gases when heated up to 680°F on a regular electric stove, including two carcinogens, two global pollutants, and a chemical known to be lethal to humans. Maybe the extra scrubbing of a regular pan is worth it.

– The air in your home is constantly filled with toxins from the paint on your walls, the glue that holds down your carpet, and the fire-retardant chemicals coating your comfy mattress. You can learn how to minimize your exposure.

With the help of The Healthy Home, you'll learn about the dangerous substances you may be exposed to on a daily basis, and the simple but effective changes you can start making today that will help you and your family reduce your toxic burden.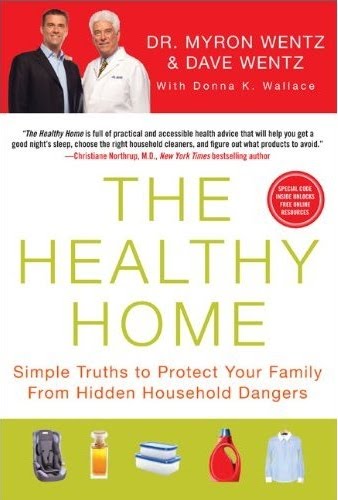 While I did enjoy the book, my only issue with it came from some rather silly scare tactics about CFL light bulbs. Sure, there is mercury in them; we all know that by now. But the truth is that compact fluorescent light bulbs use up to 75% less energy and last up to 10 times longer than incandescents, and if every home in America replaced just one incandescent bulb with a single CFL, in one year it would save enough energy to light more than 3 million homes. The Environmental Health Watch
says that
"the overall mercury exposure from coal-fired power plants is very substantially reduced by use of CFLs" so I am not as much concerned with breaking a bulb in my home as much as I am about reducing the demand for more coal-fired power plants required when people don't reduce their energy dependence at home. For more information on CFLs and any potential hazards, check out my posts
Are CFL light bulbs dangerous?
and
who is behind the fear mongering over CFL bulbs.
----------- Sponsored Links -----------
----------- Sponsored Links -----------