Greening Your Kids – How To Introduce Children To Green Living.
----------- Sponsored Links -----------
----------- Sponsored Links -----------
True, teaching your kids about earth ship housing, solar array in-floor radiant heat and adobe insulation factors might be a little much, but that doesn't mean you have to leave your kids in the dark about their environment. As a green parent, you should have green kids, no?
There are a bunch of websites out there for kids that teach about recycling, caring for the environment and being green, but I wanted to list a few that I found most appropriate and useful and that I would want my kids using…if I had any. Soon, honey, soon…

The first stop on the road to greening your kids should be The Greens. This series is made by WGBH in Boston along with TED. It has that typical "adults wont get it but I do" type of look, but the content is great and it seems to have its message right on point with discussions about everything I would want my kids to know.
You should also check out the NRDC's "Green Squad" site, which teaches kids about greening their schools and what kind of environmental hazards they should be looking for. We have been big supporters of the NRDC for years and believe fully in what they are doing and how they spend our membership fees. Check them out.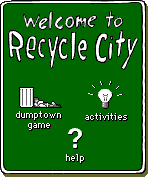 Even though I don't buy a lot of their policies (thanks George), the EPA has a pretty good website for kids about recycling called "Recycle City". On the site, kids tour a little cartoon city and click on various places within the city to learn about recycling programs. They talk about what happens to cars when they are no longer used, where trash goes, and how people in offices can recycle paper and electronics. Pretty good fun, I spent some time there myself!
There are a ton of site out there to get your kids started on being more green and learning about their environment. It is very important to get them started early so that they can change the way that we all treat the earth. Make it a point to let them know about all the ways that your house is being green so that they can participate and learn from you!
technorati: green, teaching, children
----------- Sponsored Links -----------
----------- Sponsored Links -----------