Greenwash Of The Week: Arrowhead Bottled Water Packaging.
----------- Sponsored Links -----------
----------- Sponsored Links -----------
A few weeks ago I was in the grocery store to pick up some ice cream and came across a display for Arrowhead bottled water. As I always do, I walked by it paying no attention, but then a splash of green caught my eye on the packaging. So I snapped a picture with my iPhone of the plastic wrap holding together 24 bottles of water: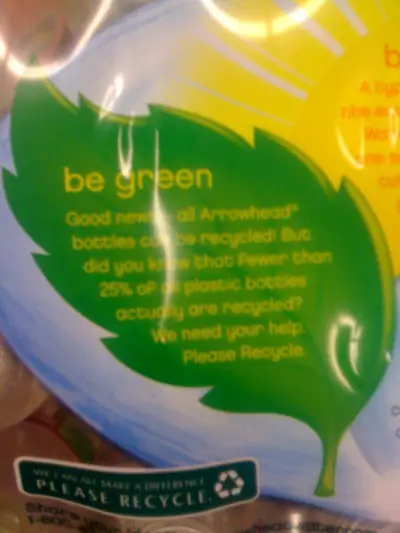 Yep, they think that because their plastic bottles are recyclable, they are being green – and using that thought to try to sell you bottled water. Never mind the fact that American tap water is among the safest in the world, as much as 40% of the bottled water sold in the U.S. is just filtered tap water anyway, and it can take nearly 7 times the amount of water in the bottle to actually make the bottle itself. Doesn't sound too green to me, no matter what it's packaged in. In fact, back in October, a report by the Environmental Working Group found that that there is a surprising array of chemical contaminants in every bottled water brand they analyzed. Looking for more reasons to stop buying and drinking bottled water? There are 12 of them. In order to truly green your water habit, pick up a reusable bottle that you can fill with tap water!
The lesson from this? Be on the look out for the greenwashing, it is showing up everywhere you look now.
----------- Sponsored Links -----------
----------- Sponsored Links -----------