Greenwash Of The Week: SC Johnson Website.
----------- Sponsored Links -----------
----------- Sponsored Links -----------
So, what company makes Drano, Pledge, Off!, Raid, Fantastik, Glade, and Windex? And which company has decided that saying they are environmentally friendly means more than actually being environmentally friendly? Yep, SC Johnson. They are running ads on TV talking about how they are using wind energy to power some of their plants, which is all well and good…until you realize what they are making with said wind power. The toxic chemicals in those products, used by millions of people, are doing way more harm to our environment than if SC Johnson made safe products with regular old electricity. One of the craziest things I saw when looking into this was a page from their website: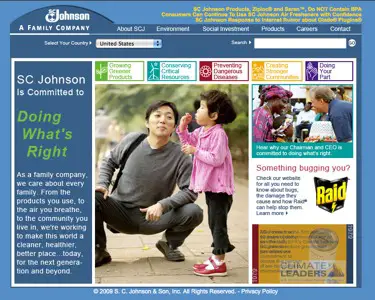 On this page, they talk about "Doing what's right, from the products you use, to the air you breathe, to the community you live in, we're working to make this world a cleaner, healthier, better place…". They then also mention "Growing Greener Products", "Conserving Critical Resources", and "Doing Your Part". Sounds great, right? Until you see the kicker over on the right hand side advertising toxic Raid to spray on bugs all over your house.
If they truly cared, why would they continue to make toxic products for us to use around ourselves, our kids, and our homes? Never mind the fact that all these chemicals end up in our groundwater after we douse ourselves with them. There are safer alternatives to everything they manufacture from other companies like Seventh Generation, Ecover, and EcoSMART (safer bug spray), so don't fall for their new-found love of the environment – it's just a greenwash to distract you from what they are actually making. Do your homework!
----------- Sponsored Links -----------
----------- Sponsored Links -----------