Greenwash Of The Week: Sierra Club Mailings.
----------- Sponsored Links -----------
----------- Sponsored Links -----------
I hate to do it, because so many people support them (Not us, however, and if you want to read why click here), but the Sierra Club is my Greenwash of the Week today. Just last week, even though I am no longer a member and have asked them repeatedly to stop sending me junk mail, I got another large envelope from them. Inside this envelope were 11 pieces of paper, a few stickers (why??), and a few plastic windows. Here are the pictures of what they sent: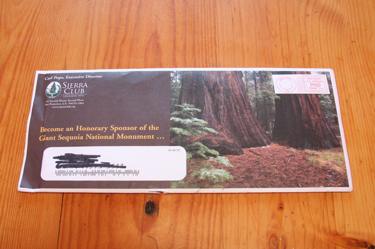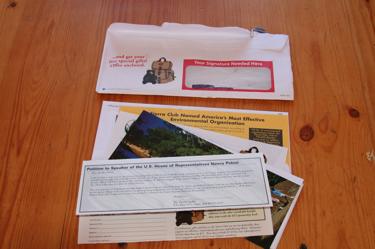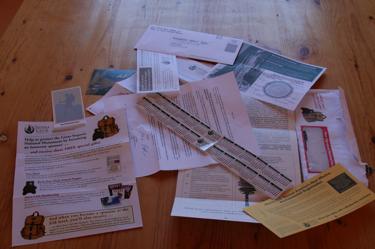 For starters, that is an awful lot of paper to send out if you are an environmental organization. Talk about wasteful! All that paper just to get people to give you money to fight for the environment? Seems they don't think about what kind of message that may send to potential members. And on top of that, there is a ton of plastic in the envelopes too – which cannot be recycled. Lastly, they are giving away a backpack and a teddy bear if you become a member – neither of which is said to be organic cotton or some other material, but rather probably just cheap stuff from China.
I have been asking, over and over again, to be taken off their list. Yet these packages of junk mail continue to show up. And it's not enough that they continue to ask me to be a member, either – they have to send me a pound of junk mail and offer me crappy toys to do it. What kind of organization that cares about the environment would think this was the right way to go about asking for help? These mailings just provide even more reasons (in addition to the Clorox endorsement) I support other groups and no longer support the Sierra Club.
----------- Sponsored Links -----------
----------- Sponsored Links -----------