Grow-Your-Own Mushroom Garden Giveaway And Discount
----------- Sponsored Links -----------
----------- Sponsored Links -----------
Back to the Roots was founded by Alejandro Velez & Nikhil Arora during their last semester at UC Berkeley, when 2 months away from graduation they came up with a business idea of growing gourmet mushrooms using recycled coffee grounds as soil. After many attempts at making their idea work they finally succeeded in growing oyster mushrooms, caught the attention of Whole Foods & Chez Panisse, and received a $5,000 grant from the UC Berkeley Chancellor for social innovation — and started their new career as mushroom farmers. Since that fateful time, Back to the Roots has since created the Grow-Your-Own Mushroom Garden which lets anyone grow their own gourmet mushrooms at home, and are currently on pace to collect and reuse 1 million lbs of spent coffee grounds from Peet's Coffee this year alone! Talk about sustainably reducing and reusing a product that would normally just be thrown away…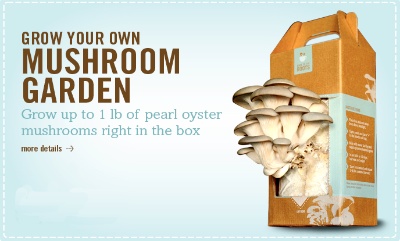 Home mushroom farmers can grow 1/2 lbs of gourmet oyster mushrooms in as little as 10 days using their garden kit. Just set the garden (already filled with soil composed entirely of recycled coffee grounds) on a windowsill, mist it twice a day, and watch them start showing up in about a week or so. The kits grow multiple crops of mushrooms, (at least 2, though some have got up to 4 crops), and are priced at $19.95 for sale on the website.
And now for the great news — the guys have offered to give away one Grow-Your-Own Mushroom Garden kit free to a lucky reader and also provide a 10% discount code for anyone else interested in purchasing their own garden. All you have to do to enter to win the kit is to follow the rules:
– The giveaway starts now and will be open until Friday, July 1, 2011 at 7am MST. No entries will be accepted after that.
– To enter, please leave a comment (with a valid email address, so I can contact you) here on this post as to why you would like to win the kit. Emailed entries will not be counted — entry by comment on this post only.
– Only one entry per person. Period. Please don't try to use different email addresses, etc, as the IP numbers will be checked.
– Entries must be from residents from the U.S.
– One winner of the Grow-Your-Own Mushroom Garden kit will be chosen at random from all eligible entries received and notified via email.
If you would like to purchase your very own kit, visit Back to the Roots and enter the discount code mushrooms4me10 at checkout for 10% off your purchase.
For more information on the company and their mushroom kits, check them out online at their website, Back to the Roots, on Facebook, or via their Twitter account. Big thanks to those guys for this giveaway, and good luck everyone!
----------- Sponsored Links -----------
----------- Sponsored Links -----------