Has Gas Mileage Improved At All From 1997 To 2007?
----------- Sponsored Links -----------
----------- Sponsored Links -----------
Except for maybe the Prius and the Honda Civic Hybrid, have we really increased MPG in the last 10 years? I know auto manufacturers are constantly touting the fuel efficiency of their cars, but as far as I can tell, except for a few exceptions, MPG has not really increased in this country by all that much. You would think that over ten years time we could make better improvements than this, but then again…the oil companies would not be making as much money, would they? Here is how the numbers look on several different cars that were available in both 1997 and 2007: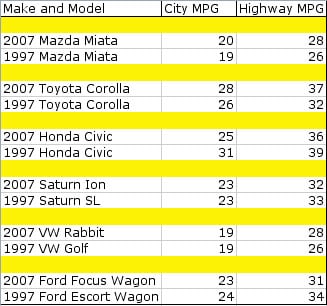 Not much of a difference, huh? In some cases, the numbers even go backwards! Ten years of research and technological advancements and we can't see even a minor increase in MPG on these 6 cars. Sure, there are newer cars out such as the Honda Fit and Nissan Versa that get pretty decent mileage, but the numbers above show that automobile manufacturers are not that concerned with MPG and only do as little as possible in order to appease the public. For more information on other models or to check your own car, a good place to start is FuelEconomy.gov.
----------- Sponsored Links -----------
----------- Sponsored Links -----------