Healthy Toys Keeps You Up To Date With Which Toys Are Toxic.
----------- Sponsored Links -----------
----------- Sponsored Links -----------
A blog that I read quite frequently, The Dough Roller, found a great site this morning called HealthyToys, which bills itself as The Consumer Action Guide To Toxic Chemicals In Toys.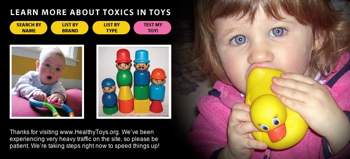 We launched HealthyToys.org because children's products should not contain toxic chemicals! No government agency is adequately assuring that children's products do not contain harmful chemicals. Nor does any agency require labeling or disclosure to inform consumers about the chemical components of children's products. HealthyToys.org was launched to address the failures of our current system to regulate chemicals in products. HealthyToys.org is a first step in providing parents, grandparents, and others who care about children with the information they need to make better choices when purchasing toys and other children's products.
So if you have kids and/or planning on buying toys for any kids this holiday season, you might want to check out this site – HealthyToys. And thanks to The Dough Roller for pointing it out!
----------- Sponsored Links -----------
----------- Sponsored Links -----------