High Prices Of Organic Cotton Clothing Got You Down?
----------- Sponsored Links -----------
----------- Sponsored Links -----------
Did you know that according to the EPA, seven of the top 15 pesticides used on U.S. cotton crops are potential or known human carcinogens and that 1/3 of a pound of chemicals are used to make a single cotton T-shirt?
In California alone, these 5 chemicals (cyanazine, dicofol, naled, propargite and trifluralin) are proven to cause cancer, yet are used to make cotton. Sounds scary, right? (For more info on the dangers of non-organic cotton, visit OrganicConsumers.org) The problem, however, is that buying organically made clothing can be very expensive. I have seen organic cotton jeans for $250…and I am not made of that kind of money and you probably aren't either. While making a very conscious effort to buy only organic and/or fair trade clothes, I have found a few places where you can get organic cotton clothes at reasonable prices.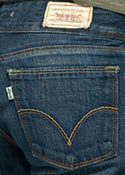 First up, Levi's. Yep, that good old jean company that you have known and loved for years. They have a new line called "Levi's Eco" jeans, which I have written about before. They retail for about $68 bucks, so they are no more than any other ones I have bought in the past, and they are just as comfortable as any pair I have owned before. I love these new jeans, I wear them way more than any of my other jeans and I plan on going back to buy another pair or 2 very soon. (After all, my birthday is next week, I deserve some, right?)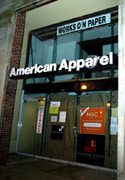 Next up is that company you love to hate, American Apparel. They sell organic cotton t-shirts and other goods, at incredibly fair prices. A 3 pack of organic men's t-shirts is only $15, which is a steal compared to other places where I see single organic T's going for $60-$75! Sure, their advertising is a little risque and the bossman is a wee bit odd, but I can get by that because of the product that they sell and their prices. My only issue with them were some Union-busting charges, but I don't know what happened with that. You will find their T-shirts at many stores selling organic clothes, along with their retail locations and online shop.
Another great place to get organic AND sweat-shop free clothes is from No Sweat Apparel. My wife just learned of these guys at a sustainability fair at her college, and we have started assembling our first order from them already. If you are a regular reader of The Good Human, you might have noticed an ad for them on the pages at different times. I did sign up to be an affiliate for them, so anything that gets bought through the link kicks back a few pennies to me, but their stuff is fantastic, and I am not just saying that. They sell clothing at really fair prices, and you can buy sweat-shop free only or sweat-shop free and organic articles. Their T's go for anywhere between $10-$15, and they also sell sneakers, jackets, hats and bags, all sweat-shop free. Check them out for decently priced organics.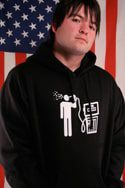 If your leanings are a little bit left, as I assume they are as you are reading this site, you might want to check out Demockratees. I bought my wife the "Treehugger" t-shirt last year, and every time she wears it people always comment. Their T-shirts are American Apparel and Apparell Agents brand T's, so they are sweat-shop free, and hers was organic cotton as well. They have tons of great slogans on their clothes, but they also sell sweatshirts, posters and stickers. If you really want to make a statement with the T-shirts that you wear, you should definitely check out Demockatrees.
There are tons of places to buy organic cotton clothes out there, but a lot of them are really expensive. Just know that you CAN find affordable organic and pesticide free cotton clothes if you spend some time looking for them. Some other places to check out are Patagonia, Freedom-Clothing, Rawganique and More Trees Hemp.
----------- Sponsored Links -----------
----------- Sponsored Links -----------