High-Speed Rail To Be Our Generation's Legacy?
----------- Sponsored Links -----------
----------- Sponsored Links -----------
U.S. Secretary of Transportation Ray LaHood thinks so, and I agree 100%. I have been a rail cheerleader for years and even traveled via Amtrak this year across the country once again. But while our rail system is adequate for a country this size, we cannot expect people to willingly get out out of their cars and spend less time in airplanes if we don't implement high-speed rail through all major routes across the United States.
The US government invests tens of billions of dollars per year in our national highway interstate system, about $15 billion in the airlines, and only about $1 billion on rail travel. In order to make high speed rail feasible for use by the masses these numbers need to be rearranged quite a bit, and thankfully we have Mr. LaHood on the side of rail and he sees it as a worthwhile investment of time, effort, and money now and in the future:
For years, we have watched other countries pass us by as they build faster trains. Indeed, the benefits of high-speed rail are tough to ignore. It will seamlessly integrate large metropolitan communities and economies through a safe, convenient and reliable transportation alternative. It will ease congestion on our roads and at our airports. It will reduce our reliance on oil as well as our carbon emissions. And it will provide a much-needed boost to America's hard-hit manufacturing sector during a time of economic struggle.

When we look to America's past, it can be easy to forget that America was never predestined to have the world's best highways. Progress only became possible because generations before us dreamed big and built big , because they imagined, invested and sacrificed for the infrastructure on which we rely to this day.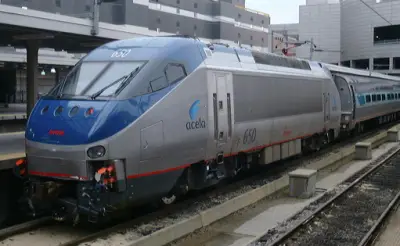 What do you guys think? With peak oil rapidly approaching yet being mostly ignored by most people, should our government go right ahead and invest more in high-speed rail to help us prepare for the future? Or should they continue sending only a tiny amount to rail projects while feeding the airlines and highway issues?
----------- Sponsored Links -----------
----------- Sponsored Links -----------