How To Start Your Own Small, Self-Sufficient Farm At Home
----------- Sponsored Links -----------
----------- Sponsored Links -----------
I just finished reading an article over at Mother Earth News titled "Start a 1-Acre, Self-Sufficient Homestead" which made me want to hurry up and find some land to settle on in the near future, so I figured I would share it with you guys in case you were interested in reading it. The article is actually an excerpt from the book The Self-Sufficient Life and How to Live It, which was published back in 1976 and remains a staple item in many farms and households to this day. With tips about preparing your land, crop rotation, what foods to plant to be self-sufficient, and what animals to keep and for what reasons, the excerpt/article had me dreaming of my own small farm.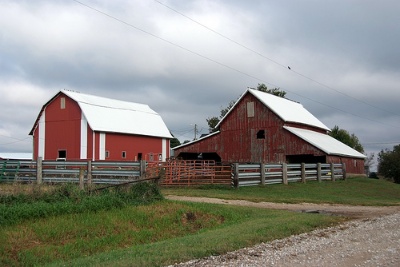 Everyone will have a different approach to keeping a self-sufficient homestead, and it's unlikely that any two 1-acre farms will follow the same plan or methods or agree completely on how to homestead. Some people like cows; other people are afraid of them. Some people like goats; other people cannot keep them out of the garden. Some people will not slaughter animals and have to sell their surplus stock off to people who will kill them; others will not sell surplus stock off at all because they know that the animals will be killed; and still others will slaughter their own animals to provide their family with healthy meat.
While we all may not have 100 acres to build a huge farm on and become self-sufficient, the article and book show that you take care of most of the things you would need on a much smaller scale and still be successful. So if you are interested in self-supported farming and independent security, I recommend you check out the excerpt over at Mother Earth News and maybe even pick up a copy of the book. I read it once when I checked it out of the library; I may have to revisit it again!
Photo by cwwycoff1
----------- Sponsored Links -----------
----------- Sponsored Links -----------