The Relationship Between Human Overpopulation and Species Extinction
----------- Sponsored Links -----------
----------- Sponsored Links -----------
In 1911, just 100 years ago, the human population of the world was around 1.6 billion people. As of October 31, 2011, says The United Nations, we will hit a population figure of 7 billion inhabitants. And since 1970 the population of the world has doubled in just 41 short years. That's a huge amount of growth in a very short amount of time, and one that is having a dire effect on the vast amount of different species around the planet. Human overpopulation and development is the driving force behind the global extinction of over 90 different species of plants and animals each day, which is why the Center for Biological Diversity is announcing a new national campaign titled "7 Billion and Counting", aimed at educating people about the dangers of overpopulation and species extinction. The website 7billionandcounting.org has been created to encourage everyone to help out, whether by attending/hosting local events, writing letters to the editors of local media outlets, or for checking out their interactive map showing what endangered species live in your backyard, making the issue seem more pertinent and local.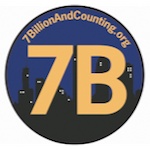 This planet has never been as crowded as it is today, and that's having devastating effects," said Amy Harwood, the Center's human population campaign organizer. "There's no better time to talk about the overpopulation crisis than right now, as we close in on 7 billion people."
We have discussed the overpopulation issue here on The Good Human before, and it is always a controversial subject when it comes down to asking humans to change behaviors in order to slow population growth. The Center for Biological Diversity says that "for too long, overpopulation has been ignored by environmental groups and others, largely for political reasons. Forty percent of pregnancies are unplanned, and the majority of women in the world do not have access to birth control. These realities are often a result of women not being in decision-making positions." It's not about putting in place a Chinese-style One Child Policy; it's about education and having an open discussion in order to preserve our planet and its inhabitants.
I think it's an important discussion to be had, to share with others, and to learn about. What do you think?
----------- Sponsored Links -----------
----------- Sponsored Links -----------