I Attended A Lecture On Earthships Last Weekend.
----------- Sponsored Links -----------
----------- Sponsored Links -----------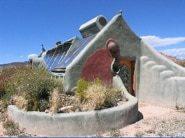 Right here in my very own local library was Jonah Reynolds from Earthship Biotecture giving a lecture on those interesting houses called earthships. The wife came with me, and I even dragged my friend and his girlfriend along to see what these things are all about. There was a good number of people there to listen to the lecture, and although the library closed before we had the question and answer session, I did learn a little bit more about earthships. Reynolds makes sense when he says "it is stupid that we use clean drinking water to flush our toilets with"! The idea behind the earthship is that you use your water several times – first in the sink or shower, then in the planter to grow food with, then to flush the toilet, where it then heads outside to your septic tank and leeching field – where it waters even more landscaping. It only makes sense!
Video posted, if you are reading through a newsreader, you might want to click through!
Anyways, we love the idea of these earthships and although our family might think we were a little strange if we moved into one some day, I wouldn't mind…they already think I am a little weird!
A previous post about earthships and Earthship Biotecture
----------- Sponsored Links -----------
----------- Sponsored Links -----------