Installing Fake Green Grass In Your Backyard.
----------- Sponsored Links -----------
----------- Sponsored Links -----------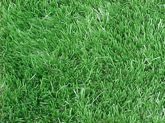 The play yard at the school my wife teaches at is bright green – something you rarely see in a yard being ravaged by 5 year olds. Between playing with toys and riding bicycles, one would expect the yard to be turned mostly to hard packed dirt – like it used to be. But earlier this year, the owner of the school installed fake grass and the yard has never looked better. They no longer have to water or maintain the grass with dangerous pesticides and fertilizers, and the school always looks fantastic for new prospective parents.
Since we are still contemplating our move to Taos, NM, I was trying to figure out a way to have a small yard for our "potential" children. A lot of properties there are in the scrub, which while it is good for water savings, it is not the most pleasant surface to go out and play on. This grass that the school installed was reasonably priced, it looks real, feels nice to sit on, and requires absolutely zero maintenance. That last part alone might be worth the price, as I hated mowing the lawn as a kid and don't really want to as an adult either! Also, depending on where you live, some states and cities actually give you money towards the installation because of the water savings that go along with this kind of product.
Growing up on the east coast with a huge natural lawn, it seems strange to be thinking about fake grass in my yard. However, this is not the fake grass of the old days – I was curious at first when my wife told me about the stuff at her school. But once I visited and took a look at it, I have to say that it looks very real, feels very real, and is very appealing to me for when (if) we live in a desert climate. With the droughts going on around the country, I have a feeling more and more people will look to alternatives for their lawns. Not too many people want a sandy yard covered in cacti, so this is a pretty cool compromise!
----------- Sponsored Links -----------
----------- Sponsored Links -----------