Is Barack Obama Patriotic Enough To Be President?
----------- Sponsored Links -----------
----------- Sponsored Links -----------
Wha? Huh?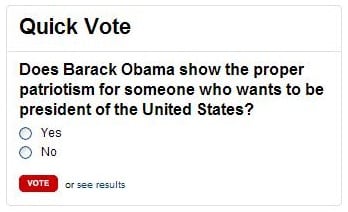 So asked CNN the other day, and this blogger has had enough. John Aravosis is one of my favorite political bloggers, and he has it right – no matter who you are voting for, this crosses a very obvious line:
This is unforgivable. Questioning Senator Obama's patriotism? Why does CNN feel comfortable questioning Obama's patriotism? You don't see CNN questioning John McCain's patriotism, even though he let our troops down in Iraq and Afghanistan for years while they fought with insufficient manpower and equipment and VA benefits. I doubt CNN is going to be doing a poll about whether John McCain is crazy. Or how about if George Bush is still an alcoholic? The media never dares to question the integrity, the sanity, the patriotism of Republicans… Oh let's do talk to about the AP. Their reporter, Nedra Pickler, writes a piece that regurgitates all the right-wing lies about Obama lacking patriotism, and what's the title of the story? – "Conservatives say Obama lacks patriotism"
A great read and worth your time to check it out, whether you are a Democrat, Republican or an Independent. This is just plain wrong. Is it time to declare war on CNN?
----------- Sponsored Links -----------
----------- Sponsored Links -----------